Muffuletta sandwich in pasta salad form! This Muffuletta Pasta Salad is my new favorite summer salad consisting of ingredients we know and love in a classic Cajun muffuletta sandwich – lots of olives, ham, salami, cheese, red bell peppers and more!
This post is sponsored by my friends at Tony Chachere's! We are celebrating Tony Chachere's 50th Anniversary, and I am excited to share this yummy recipe with you. All opinions, as usual, are my own.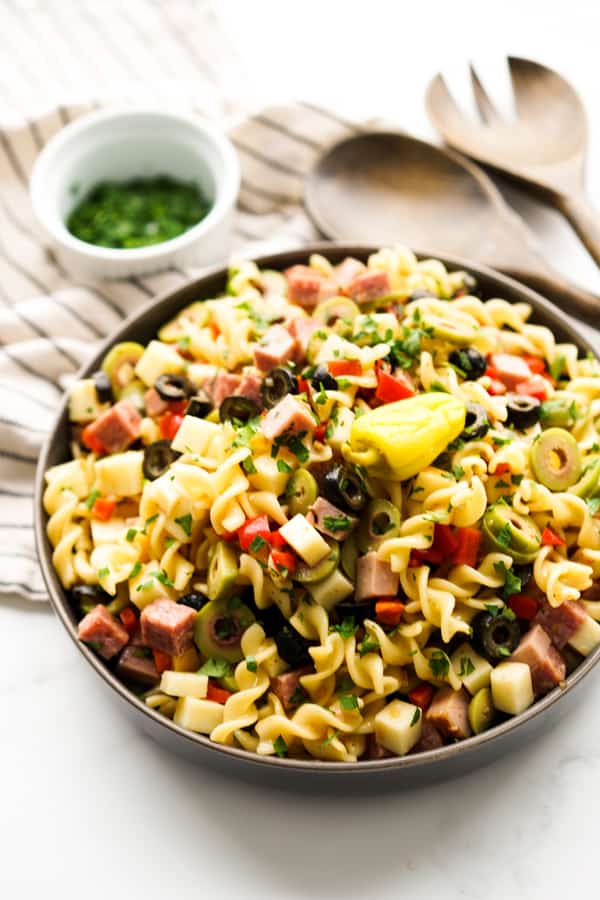 What is Muffuletta Pasta Salad
Muffuletta sandwich is the popular New Orleans style sandwich that originated from Italian immigrants in New Orleans, Louisiana.
The traditional Muffuletta sandwich is typically loaded with an olive salad, salami, ham, and cheeses…all packed between two split slices of muffuletta bread.
We are so inspired by this delicious sandwich we created this Muffuletta Pasta Salad! It consists of key components of the sandwich, along with pasta, tossed in the delicious and tangy Creole-Style Italian Dressing by Tony Chachere.
Not only is it incredible yummy, with incredible textures and flavors, this is so very easy to make!
It can be served warm, cold or in room temperature. It is one of those dishes you can leave out for a few hours and it will still tastes just as good, making it perfect for summer cookouts, parties and potlucks.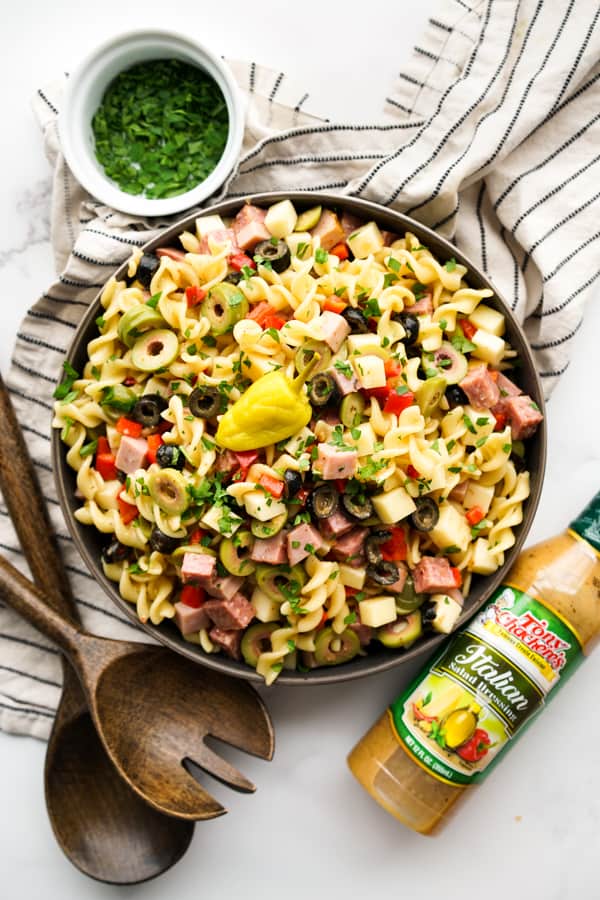 Ingredients
Made with fresh and high quality ingredients, no wonder this pasta tastes amazing! Here's what you will need:
Tony Chachere's Creole Style Italian Dressing – the true star of the dish. This dressing is tangy, zesty, savory with a hint of sweetness. The best way to put it is it's Italian dressing with a Cajun twist. I am kinda obsessed and use it in most of my salads these days!
fusilli pasta – I like this shape for this Muffuletta Pasta Salad because it traps the dressing well, however, feel free to use other types of pasta.
salami – I like to get thick cuts of salami and cut it them cubes so that I can bite into thick chunks of the yummy meat. Yum… Feel free to slice them if you prefer.
ham – I also cubed them for the same reason. Sliced ham would work as well.
mozzarella cheese – cubes all the way!
provolone cheese – same as the above 🙂
black olives – slice them thinly
green olives – slice them thinly
red bell peppers – this is usually an ingredient in the olive salad and I love the added dimension of flavor it brings to this pasta salad.
parsley
pepperoncini peppers
How to Make it
To make this delicious Muffuletta Pasta Salad, start by cooking pasta in boiling water.
Follow package instructions to cook pasta.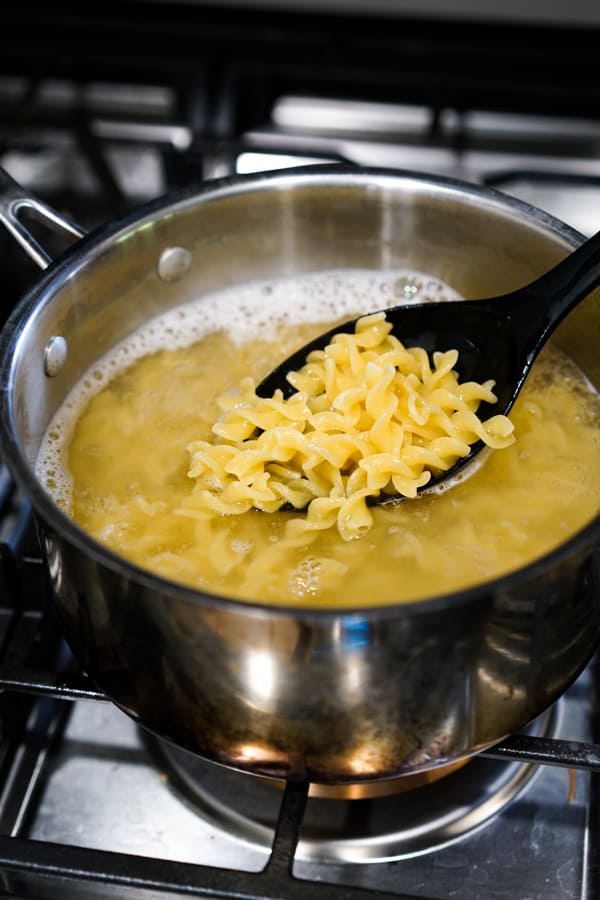 Once pasta is cooked, drain water and set pasta aside.
Run cold water through pasta and drain it to prevent pasta from sticking to each other.
Let pasta cool if not the hot pasta will melt the cheese when tossed together with the rest of the ingredients.
Add cool pasta to a large mixing bowl, then prep and bring together the rest of the ingredients – black olives, green olives, salami, ham, mozzarella, and provolone.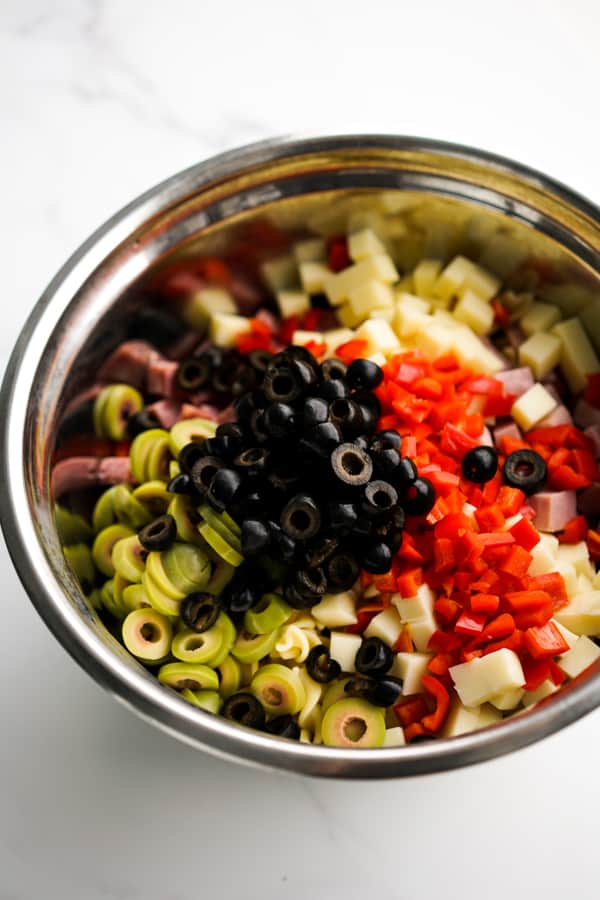 Give it a nice toss – be careful not to squish the pasta.
Then drizzle that delicious Creole-Style Italian Dressing all over the Muffuletta Pasta Salad.
Italian dressing will coat the pasta, meats and cheeses…giving everything a nice tangy flavor.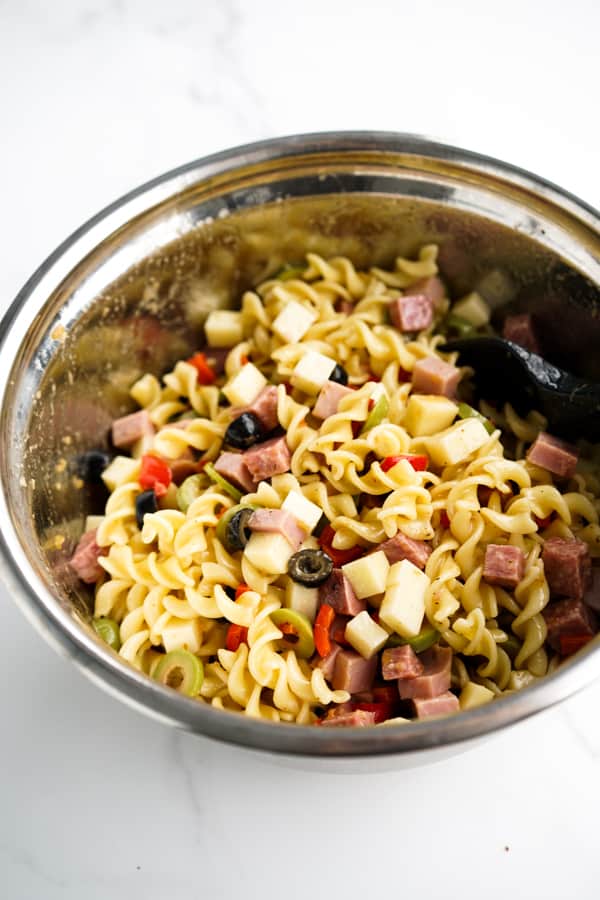 Don't forget to garnish with fresh chopped parsley to give this Muffuletta Pasta Salad an extra burst of freshness in every bite!
I also like to top it with a (or two, or three!) pepperoncini for those who like that extra heat to their pasta.
And that's it!
A super duper easy and yummy pasta salad that will actually fill you up!
Muffuletta Pasta Salad is light, very flavorful, with amazing textures of chewy, crunchy, juicy etc, that once you start eating, it's truly hard to stop!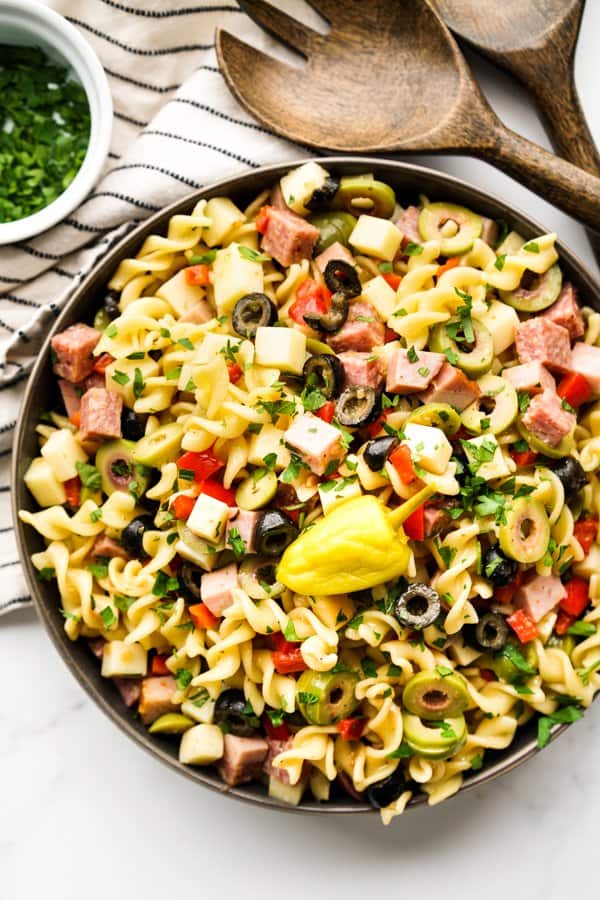 Substitutions and Variations
There are many ways to make this Muffuletta Pasta Salads, and other ingredients you can add in addition to or in place of what I suggested.
Here are other yummy ingredients that would go well in this pasta salad:
Meats: sausage, pepperoni, Canadian bacon, bacon
Vegetables: red onion, celery, tomatoes, cucumbers, lettuce
Cheese: Swiss, Monterey jack, Colby jack, cheddar, pepper jack, feta
Pasta: rotini, penne, ziti, other bite-sized shaped pasta
How to serve this pasta salad
Muffuletta Pasta Salad goes really well with any meat dishes (especially grilled meats!), seafood dishes, burgers, sandwiches and even by itself! I have totally made a lunch or dinner out of just this salad.
They are so perfect for summer dinners, cookouts and barbecues.
It's great anytime of the year, but somehow, whenever I think of this, I always think of summer days, eating outside, and pairing it with a glass of wine or White Peach Sangria. 😉
Here are some of my favorites dishes to serve with Muffuletta Pasta Salad: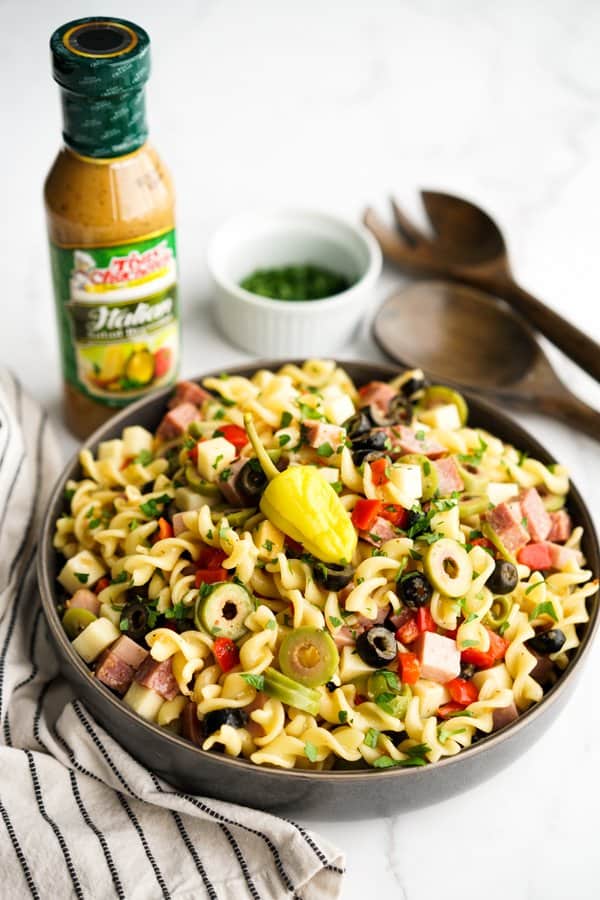 Make Ahead and Storage
If making ahead, you can bring all the ingredients together but avoid tossing Muffuletta Pasta in dressing until ready to serve for ultimate freshness.
If storing leftovers, and leftovers are already tossed in dressing, store pasta salad in an air-tight container in refrigerator for up to 48 hours.
Other Yummy Salad Recipes
We love a good salad, and here are some of our favorites!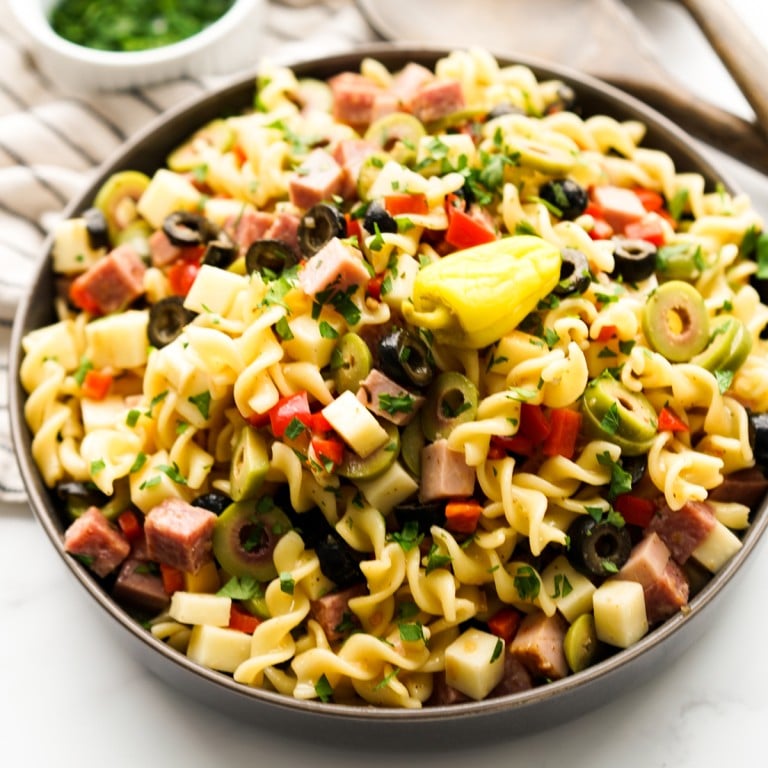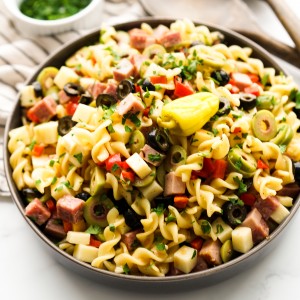 Muffuletta Pasta Salad
The classic Cajun Muffuletta sandwich in pasta salad form! Lots of olives, ham, salami, cheese, red bell peppers tossed in a tangy Cajun-style Italian dressing.
Print
Pin
Ingredients
8

oz

fusilli pasta

1

cup

salami

cubed

1

cup

ham

cubed

1

cup

mozzarella cheese

cubed

1

cup

provolone cheese

cubed

1

cup

black olives

sliced

1

cup

green olives

sliced

½

cup

red bell peppers

chopped

3/4

cup

Tony Chachere's Creole Style Italian Dressing

or more to taste

1

tbsp

parsley

chopped

1-2

pepperoncini peppers
Instructions
Bring water to boil in a medium pot, then add fusilli pasta. Cook fusilli pasta based on package instructions. When done, drain water and set pasta aside to cool. Pasta needs to cool before tossing with the other ingredients, if not cheese will melt. Cool pasta by running over cold water to expedite the process if desire.

In a large bowl, bring together cooled pasta, salami, ham, mozzarella cheese, provolone cheese, red bell pepper, black olives, and green olives.

Pour Italian dressing all over and toss to combine.

Bring pasta salad to a serving bowl. Garnish with parsley, top with pepperoncini peppers.

Serve and enjoy!
Nutrition
Calories:
410
kcal
|
Carbohydrates:
27
g
|
Protein:
19
g
|
Fat:
25
g
|
Saturated Fat:
9
g
|
Polyunsaturated Fat:
4
g
|
Monounsaturated Fat:
11
g
|
Trans Fat:
0.01
g
|
Cholesterol:
44
mg
|
Sodium:
1482
mg
|
Potassium:
258
mg
|
Fiber:
2
g
|
Sugar:
4
g
|
Vitamin A:
718
IU
|
Vitamin C:
14
mg
|
Calcium:
226
mg
|
Iron:
1
mg