This post may contain Amazon or other affiliate links. As an Amazon Associate I earn from qualifying purchases at no additional cost to you.
It's September, I hereby declare it is officially soup season.
And yes, I do realize that some of us could still be encountering 100 degree weather. But it rained today and yesterday, it has been cooler, and I had glimpses of Fall. So I have hope, and I still stand by it – soup season is here. It just is. It has to. It's time.
I'm kicking off soup season right with this flavor-bursting Hot and Sour Soup. It is one of my favorite soups of all times. Loved it as a kid. Love it as an adult. I get it all the time at Chinese restaurants, so I decided to make it myself a few years ago. This recipe has been perfected over the years, and I can never get enough of it every time I make it.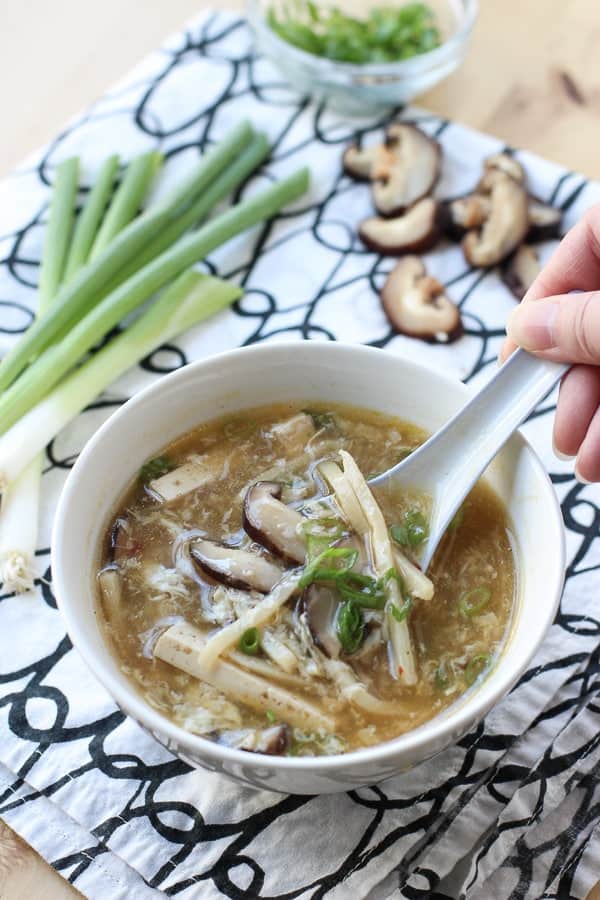 You can encounter Hot and Sour Soup at pretty much any Chinese restaurant in the U.S. It is a gorgeous concoction of flavors, and typically contains mushroom, tofu, and pork. Some will incorporate more traditional ingredients such as dried black fungi and multiple type of mushrooms.
However, you can always expect them to be slightly thick in consistency, slightly savory, slightly sweet, sour and has a kick to it.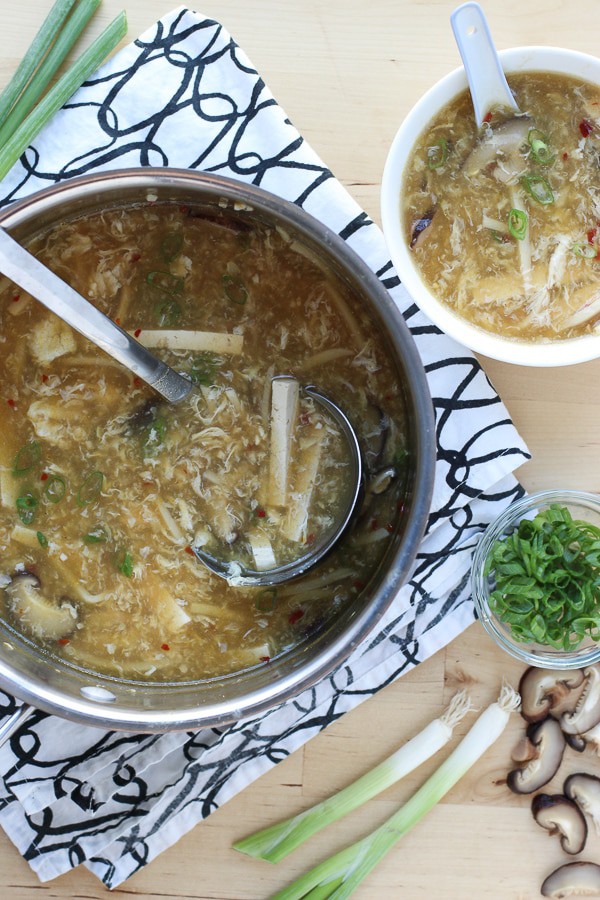 Today I am going to show you how to make Hot and Sour Soup in your own kitchen. It is very doable and just as delicious. Also, you can have way more than just that tiny little cup-sized bowl that it usually comes in.
I'm keeping it simple with my version of Hot and Sour Soup. It will have the same complex  gorgeous flavors, but I am limiting the ingredients to a handful of items that you can typically find in the store – bamboo shoots (canned version), mushroom, and tofu. Sometimes I like to add strips of pork to the soup as well, but I decided to go meatless today.
I use Shiitake mushrooms for this recipe, and it came dried. Because of that, I had to soak it in water for 30-45 minutes to soften them before slicing and cooking them. If you buy dried mushrooms of any sort, you will have to do that too.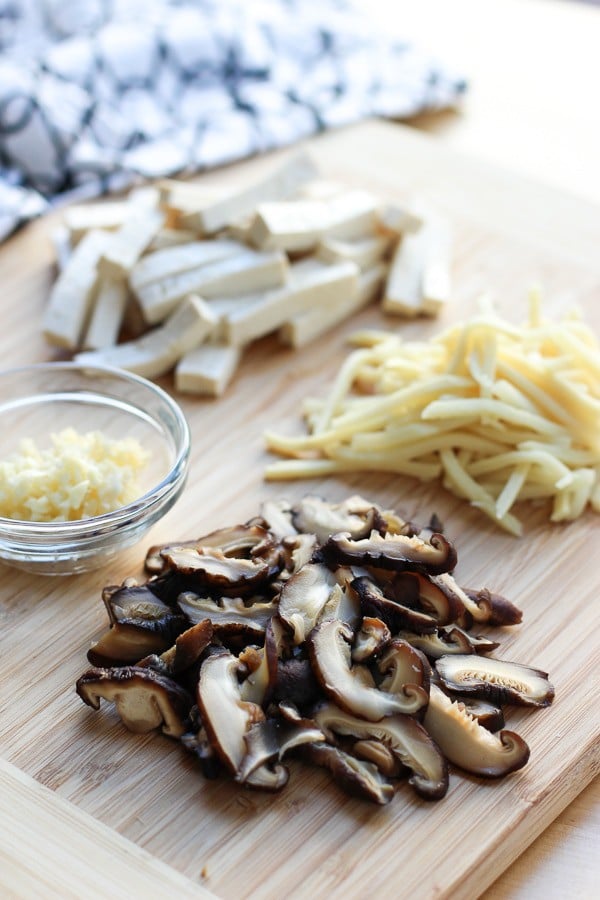 As for the spices that makes up the broth  – soy sauce, rice vinegar, sesame oil, rice wine, ginger powder, garlic, white pepper, red pepper flakes. Sugar and salt are also added to open up and really bring out all of the flavors.
You can find all of these items in most large mainstream grocery stores, the hardest one to get a hold of is probably rice wine, but the larger stores should carry it. If I have to pick on ingredient to omit in the list of spices, it would be the rice wine. Therefore, if you really cannot find it, try it without the rice wine.
The spice level in my recipe is closer to a medium spicy. To make the soup less spicy, reduce the amount of white pepper and red pepper flakes.
The broth base is vegetable broth, and corn starch is used to thicken the broth. Chicken broth can be used as well.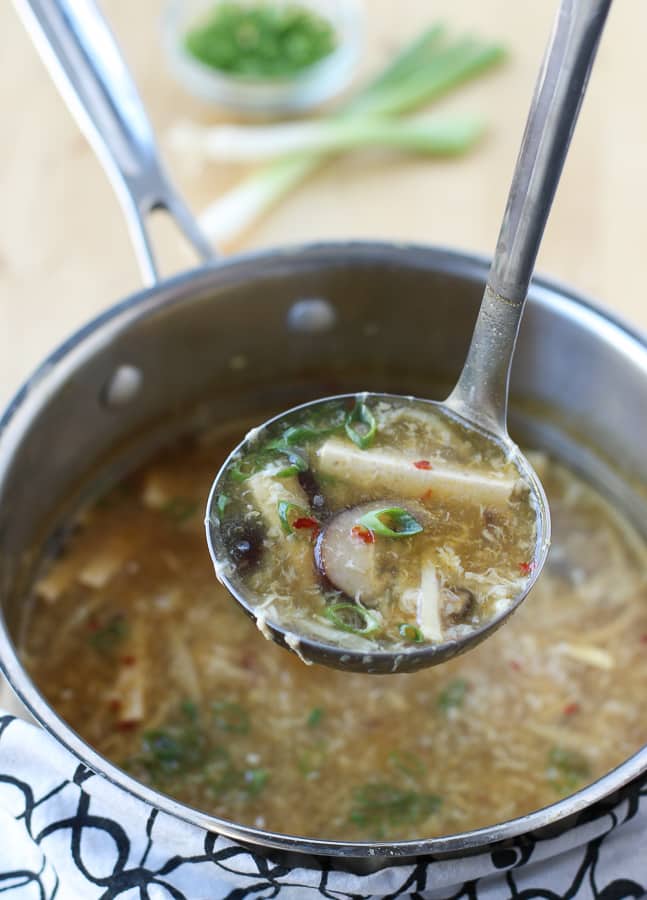 I am already dreaming about colder, winter days, where I light a fall/winter theme scented candle, and serve Hot and Sour Soup at the dinner table.
Hot and Sour Soup is the perfect starter or side to any of your Chinese or Asian inspired meal. Try it out! I have a feeling you will love this homemade version, and may be skipping Chinese takeout in the near future! 😉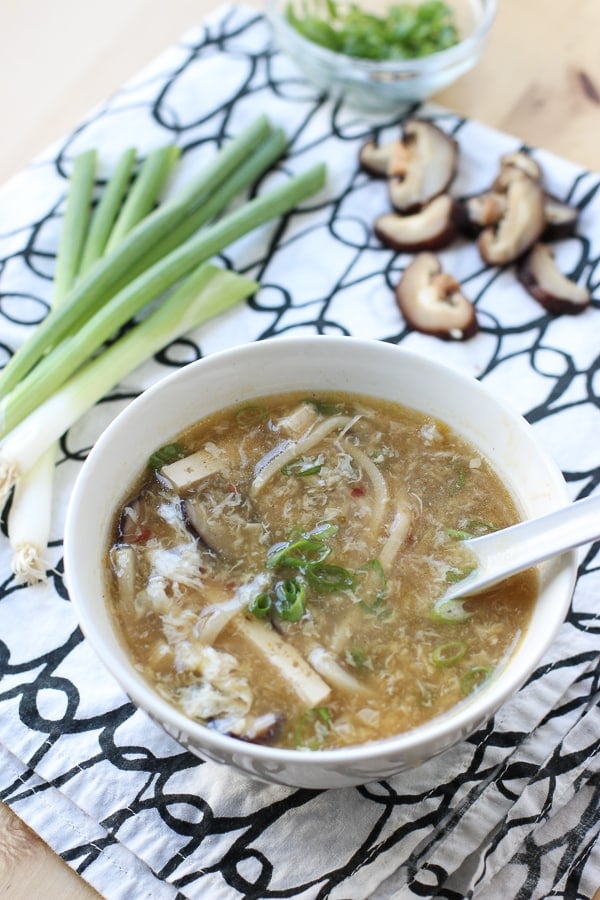 Serve Hot and Sour Soup with these popular Asian dishes on the blog! HELLO, PERFECTION!
Also, if you like Hot and Sour Soup, you should also check out our delicious Egg Drop Soup recipe! YUMMERS. (not a word, don't care!!)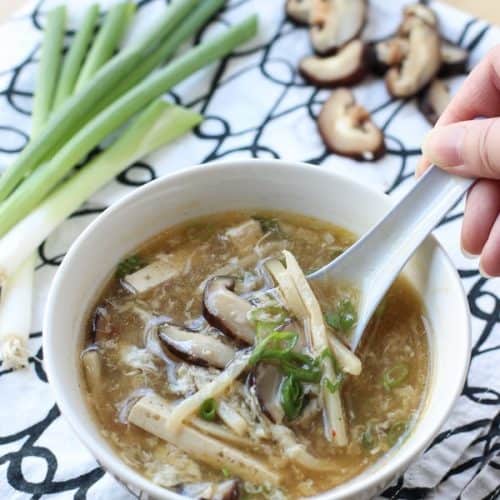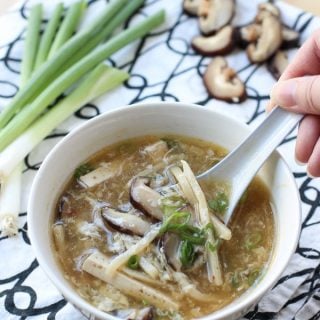 Hot and Sour Soup
Popular Chinese soup with sour, savory, sweet flavors, along with a slight spicy kick! No need to order at Chinese restaurants, make this at home! It's also healthy and vegetarian!
Print
Pin
Ingredients
1

cup

Shiitake (or another kind) mushroom

sliced

1

cup

tofu

sliced

3/4

cup

bamboo shoots (canned)

sliced

1/2 - 1

tbsp

minced fresh garlic

4

cups

vegetable broth

1 1/2

tbsp

corn starch

1/4

cup

rice vinegar

1

tbsp

soy sauce

1

tbsp

sesame oil

1

tbsp

rice wine

2

tsp

ginger powder

1

tbsp

sugar

1

tsp

salt (more if needed)

1/2

tsp

ground white pepper (reduce for less spicy)

1

tsp

red pepper flakes (reduce for less spicy)

1

egg

green onions

garnish
Instructions
Soak dried shiitake mushrooms in water for 30-45 minutes. Skip this step if not using dried mushrooms.

Slice mushroom, tofu and bamboo shoots. Mince garlic.

Bring vegetable broth to a pot and add corn starch to broth. Important: do not heat up pot yet. Corn starch will clump up and is harder to dissolve if broth is hot/boiling. Using a spoon, mix corn starch into broth. Then turn on the heat.

Add garlic, rice vinegar, soy sauce, sesame oil, rice wine, ginger powder, sugar, salt, white pepper and red pepper flakes to broth. Bring to boil.

Once broth is boiled, add sliced mushroom, tofu and bamboo shoots to broth. Bring to boil again. Once boiled, lower heat to medium low and let it simmer for 5-7 minutes.

Taste soup and add more salt if need. Salt will open up the flavors in addition to increasing the saltiness of the broth.

Right before removing soup from heat. Beat an egg in a small bowl and slowly pour beaten egg into soup. Stir while pouring the egg into soup.

Remove from heat. Garnish with green onions. Serve and enjoy!