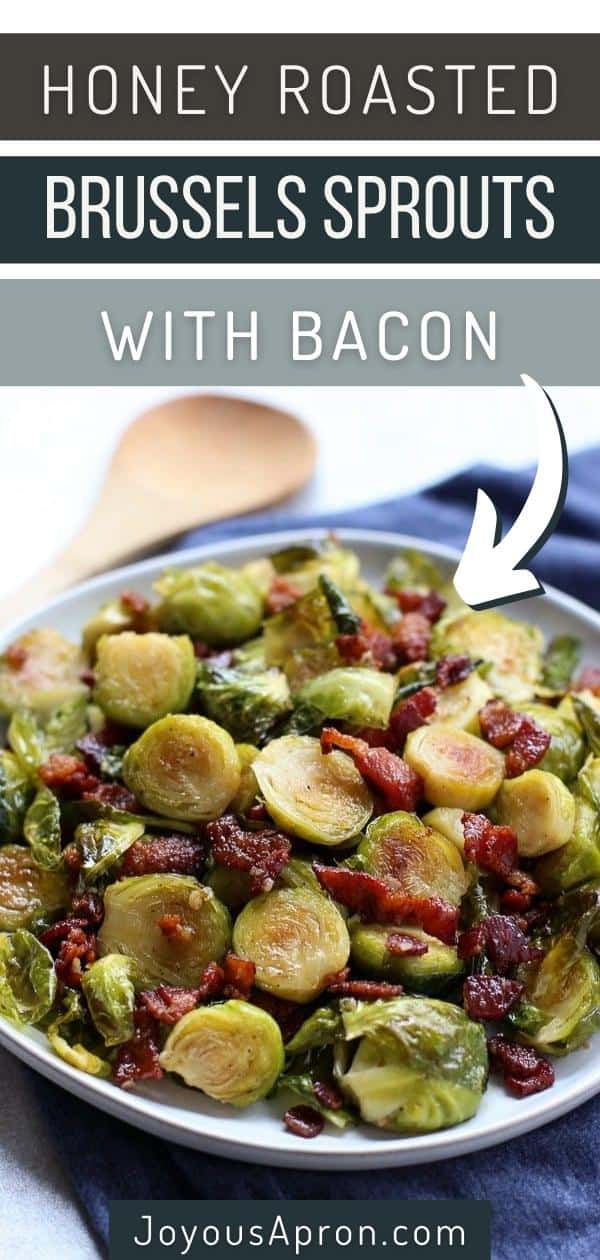 This post may contain Amazon or other affiliate links. As an Amazon Associate I earn from qualifying purchases at no additional cost to you.
Honey Roasted Brussels Sprouts with Bacon is a delicious veggie side dish for dinner any day or the holidays! There's something magical about roasting brussels sprouts with bacon and drizzling it with honey…
Trust me when I say, you will be addicted to Brussels sprouts before you know it!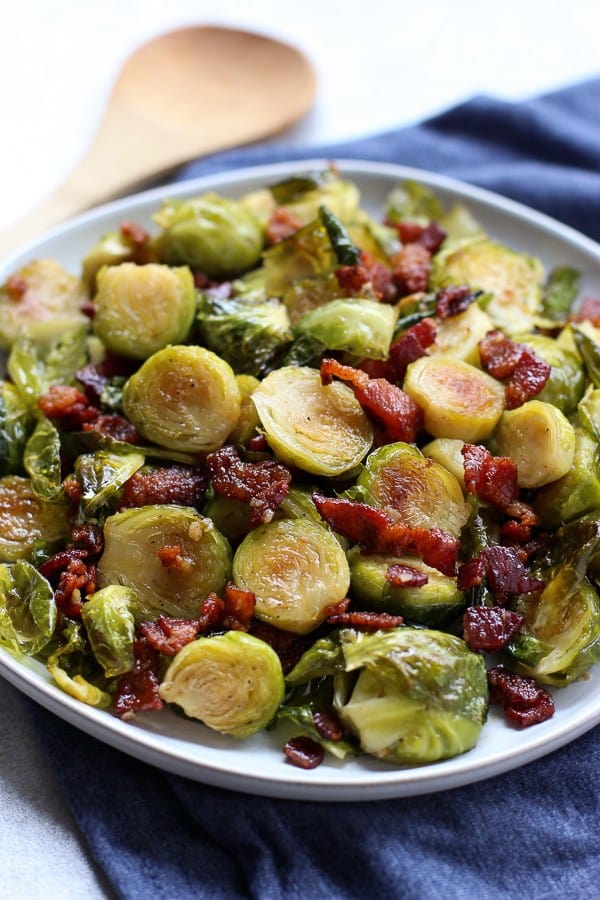 It's November…NOVEMBER!! What in the world.
Can we stop time? For just a day (or two) so I can take a breather, a bubble bath, or just catch up on life? Imagine a world where we get a "catch-up-on-life" day…
We all know what November means – it is the beginning of the holiday season. I thought it is appropriate to kick off November with a fun and delicious side that is perfect for the Thanksgiving and Christmas table.
Or for any day, really. I mean, for real, this is so yummy I will eat this ANY DAY.
This Honey Roasted Brussels Sprouts with Bacon recipe is made of crunchy, flavorful and slightly charred Brussels sprouts tossed in honey and crispy bacon.
Sticky, sweet, savory, full-on flavor, it tastes every bite as glorious as it sounds.
Brussels sprouts cooked and seasoned well is like tasting a drip of heaven on your tongue, but Brussels sprouts cooked badly can be a way less fun experience…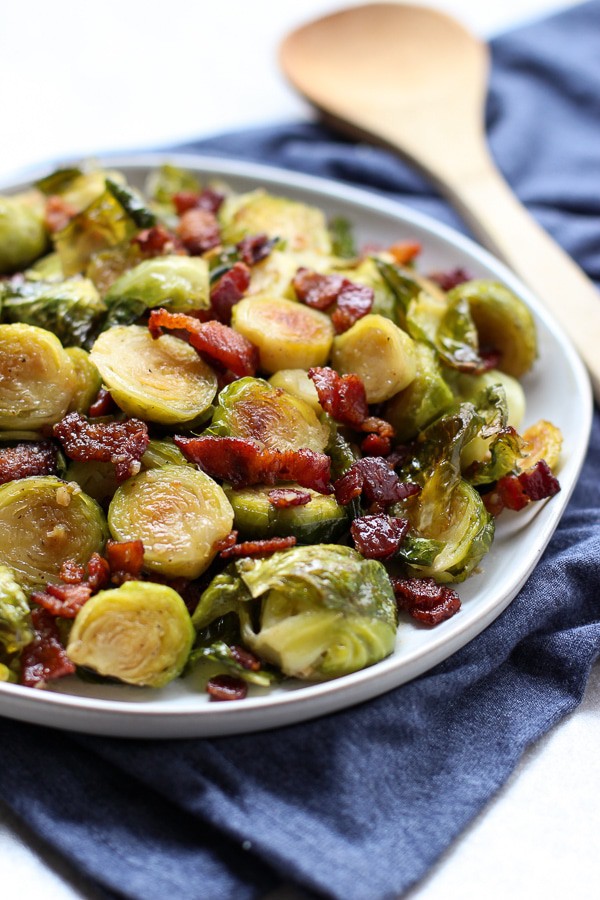 I love Brussels sprouts, but I have also tasted some pretty not-so-great tasting Brussel sprouts in my life.
So I set some rules. Here are my Brussels sprouts rules:
Do not boil brussel sprouts
Do not steam brussel sprouts
Do not slow cook brussel sprouts (no, no, no please! 😉 )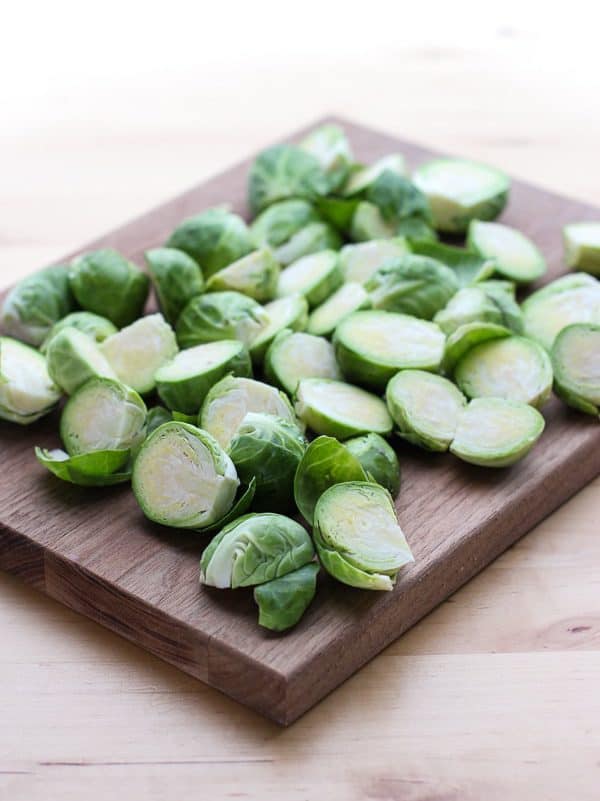 To taste like the glorious things they are created to be, Brussels sprouts needs to be cooked in such a way where it doesn't get soggy, and maintains that slight crunch.
And when you do…omg, I can hear angels singing because it is truly a delicious and beautiful thing.
This Brussels sprouts recipe is not only delicious, it is very easy to put together! MY KINDA SIDE DISH.
So seriously, let's get cookin'.
How to Roast Brussels Sprouts
To make this dish, we will first roast the Brussels Sprouts. Start with cutting off the stems then cutting the Brussels sprouts in half.
Toss the Brussel Sprouts in olive oil, minced garlic, salt and pepper, coat them evenly, and then lay them out on the baking sheet (This is my favorite as it does not warp at high temperature!) .
Try not to crowd the baking sheet or overlap, and turn most of the halved Brussels sprouts face down, this will give the flat surface a nice char.
Char on veggie makes me happy. 🙂 Sometimes, it's the simple things in life.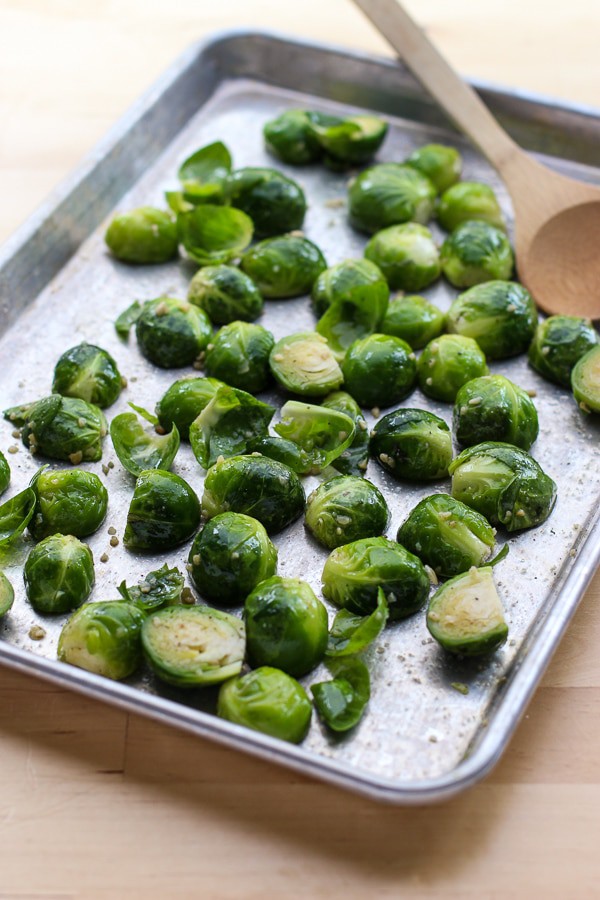 Then bake it in the oven for 20 minutes at 400 degrees F.
Bacon bacon bacon
I am convinced everything is better with bacon. Life, Breakfast tacos, deviled eggs, waffles, and yes Brussels sprouts too. 🙂
Just like wine, I feel like bacon is a cheat ingredient. A little bit of it goes a long way, and can totally transform a dish into something spectacular.
It has so much depth in its flavor, and it has the magical ability to just make everything better.
You CANNOT go wrong with BACON.
So add some bacon into this Brussels sprouts dish and be prepared to be blown away!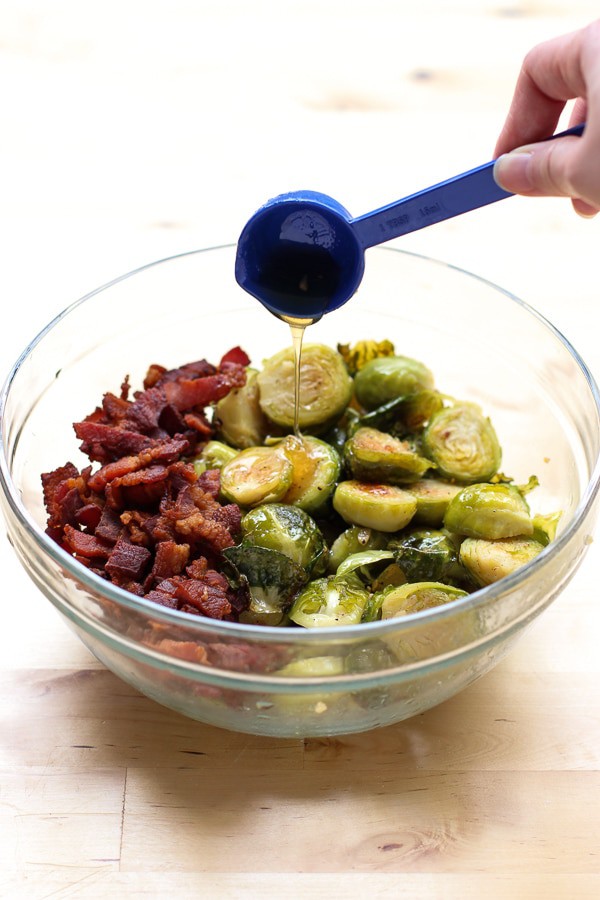 Fry up sliced up bacon until it is crispy, then toss roasted Brussel sprouts with pieces of crispy bacon and honey until it's all evenly coated, and gooey, and sticky. And irresistible.
The combination of Brussels sprouts, honey and bacon is perfection. Every once in a while, you find that perfect flavor/texture combo. THIS IS IT.
It is so perfect and so tasty, I sat munching on (and oo-ing and ah-ing over) this plate of Brussels sprouts at 2pm in the middle of the afternoon after I photographed this.
If Brussels sprouts have bruised you (which I apologize for this sad situation), and this doesn't change your mind about Brussels sprouts, I don't know what will.
Don't mess with this YUM THING!!
Friends, it is the perfect side dish. For Christmas, for Thanksgiving, for Easter, for ANY DAY. It goes great with any main protein dish, or just munch on it by itself like I did as a mid-afternoon snack! 😉
So legit it will make you LOVE eating your veggies. 🙂
DID YOU ENJOY THIS RECIPE? Please comment below and give us a 5-star rating! This will help others find this recipe on Google and Pinterest! We very much appreciate your help! 🤍
Other Holiday Side Dishes
Here are other holiday side dish ideas on the blog!
Other Ways to Prepare Brussel Sprouts
I love Brussel Sprouts and believe Brussel sprouts prepared well makes them taste SO GOOD! Here is a sautéed method of preparing Brussel sprouts that is super yummy as well!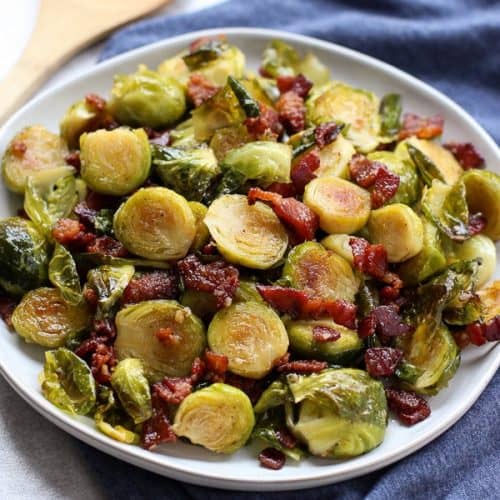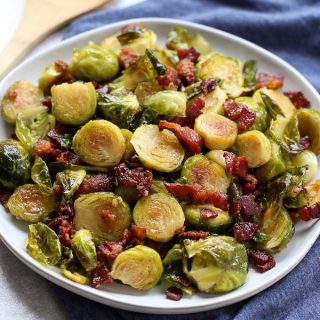 Honey Roasted Brussel Sprouts with Bacon
The perfect side dish for the Christmas and Thanksgiving holidays, or any day! Crunchy, slightly charred and seasoned with great flavors, these Brussel sprouts are roasted and tossed with crispy bacon and honey. Super easy and yummy!
Print
Pin
Ingredients
1

lbs

Brussel sprouts

2

tbsp

extra virgin olive oil

1

tbsp

minced garlic

salt

to taste

pepper

to taste

5-6

strips

bacon

2

tbsp

honey
Instructions
Pre-heat oven to 400 degrees F.

Cut off steams from Brussel sprouts, then half the Brussel sprouts.

Bring halved Brussel sprouts to a large bowl. Add olive oil, minced garlic, salt and pepper. Toss to coat evenly.

Spread Brussel sprouts onto a baking sheet. Turn most of the Brussel sprouts face down so they will get a nice char on their flat surface. Avoid overcrowding or overlapping.

While Brussel sprouts are roasted in the oven. Slice bacon into small pieces and fry until crispy (using a skillet).

Remove crispy bacon when done and move to a plate lined with paper towel (so that paper towel will absorb the grease from bacon).

When Brussels sprouts are done, bring them to a large bowl. Add bacon to the bowl and add honey. Toss and coat evenly.
Nutrition
Calories:
208
kcal
|
Carbohydrates:
16
g
|
Protein:
6
g
|
Fat:
15
g
|
Saturated Fat:
4
g
|
Cholesterol:
15
mg
|
Sodium:
285
mg
|
Potassium:
396
mg
|
Fiber:
3
g
|
Sugar:
9
g
|
Vitamin A:
684
IU
|
Vitamin C:
78
mg
|
Calcium:
41
mg
|
Iron:
1
mg