Hawaiian Chicken with Coconut Rice
This Hawaiian Chicken recipe is a tropical-inspired meal that is simple, delicious, and makes me feel like I'm on a tropical vacation! The chicken is marinated in a flavorful soy and pineapple juice sauce, and can be grilled or pan-fried.
Served with sweet grilled pineapples and coconut rice, this Hawaiian Chicken dish is loaded with flavors of sweet, tangy and savory…a real treat especially for those who complex flavors.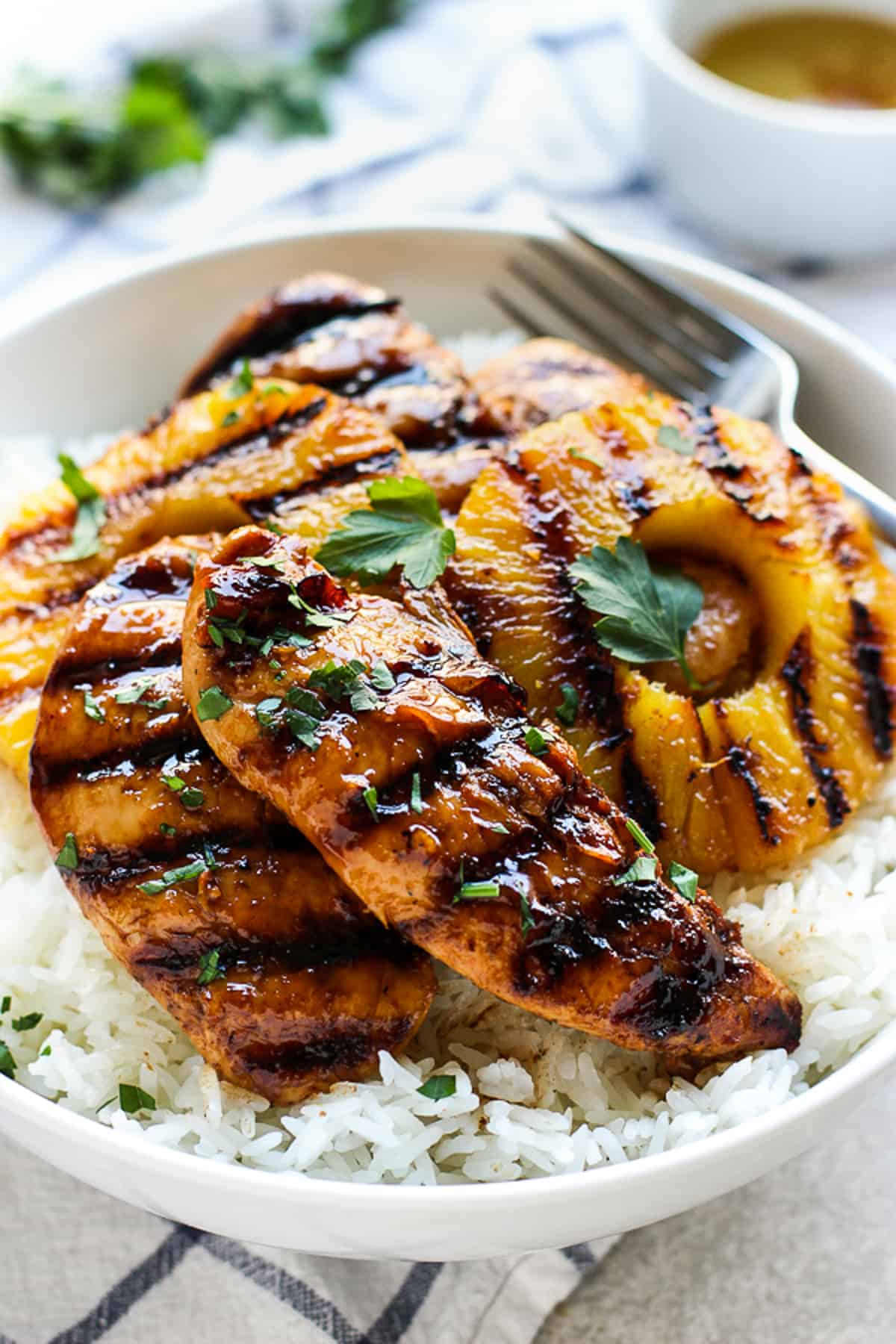 This lovely flavor combination is that truly spectacular and will make your tastebuds dance the happy dance.
Easy Hawaiian Chicken Recipe
One of my favorite things about Hawaiian chicken is that one bite into it, especially with that grilled pineapple and coconut rice, I truly feel like I am whisked away to some tropical island and living that carefree island life.
Island life. That sipping-fruity-alcoholic-drink, live-in-your-bathing-suit, sand-between-your-toes, go-to-sleep-listening-to-the-ocean-breeze, eating-fresh-seafood-and-tropical-fruits-all-the-time kinda life. A girl can dream!
The key to this Hawaiian chicken recipe is that lovely Hawaiian chicken soy marinade that is sweet, savory, tangy, inspired by Polynesian flavors.
Hawaiian chicken is truly not complete without grilled pineapples. Sweet grilled pineapples pairs perfectly with the chicken, giving a nice sweet and savory flavor balance.
Just like any marinade, the longer you can marinade Hawaiian chicken the better, as you want to let the flavors sip into the chicken bringing flavor to the insides and not just the surface.
One of the many reasons I love this Hawaiian chicken recipe is because it always, always reminds me of the flavors and smells of the food we enjoyed in French Polynesia, where we honeymooned.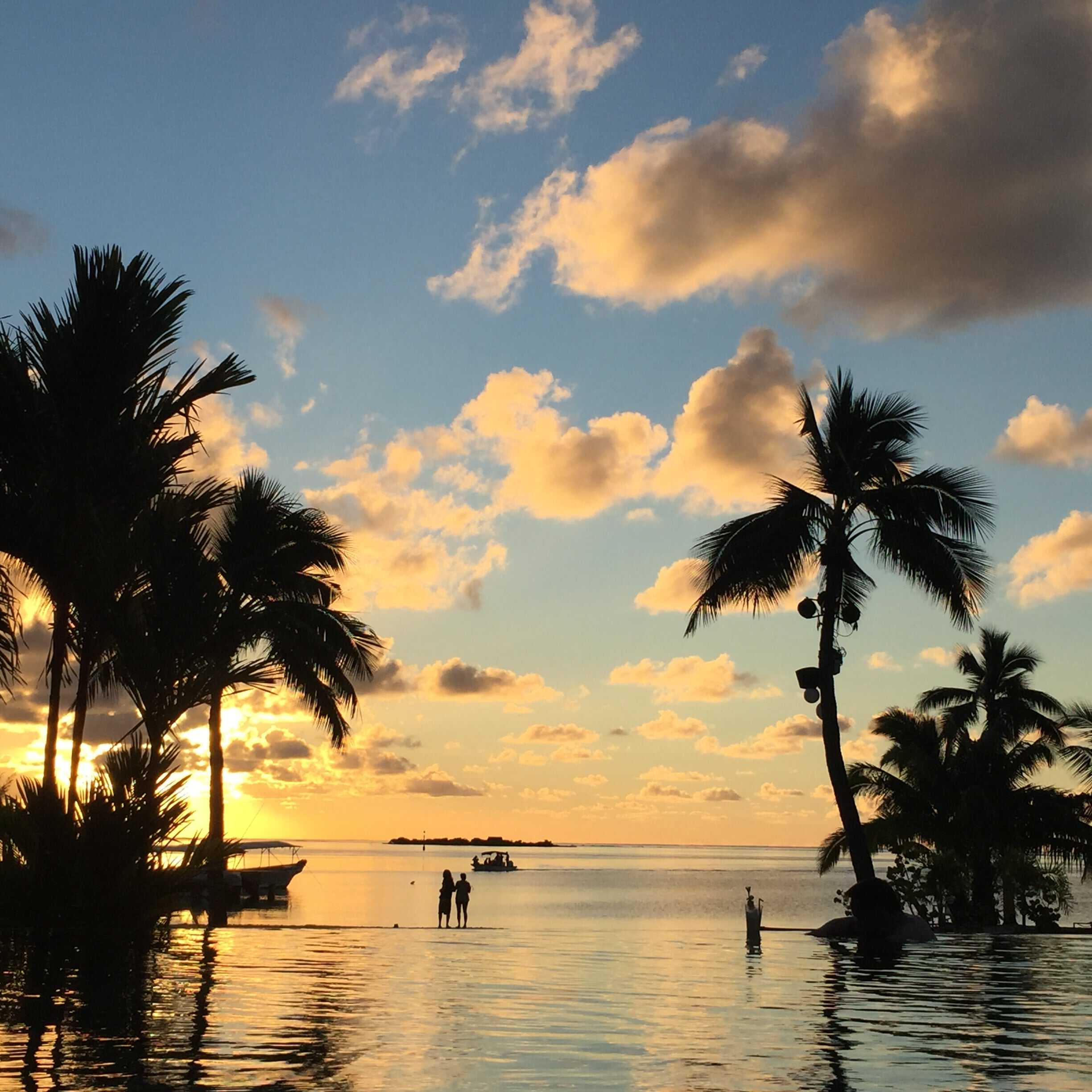 TOO DREAMY FOR WORDS.
And since island life isn't happening anytime soon, I'm BRINGING IT TO ME. In the form of this glorious Hawaiian chicken dish.
A girl's gotta go what a girl's gotta do. 🙂
Ingredients Notes
This Hawaiian chicken recipe calls for a simple marinade that consist of the following ingredients. My goal is to keep the ingredient list short and simple, yet producing maximum flavors.
chicken tenderloins – you can use chicken breast or chicken thighs as well
pineapple juice – for ease I get canned pineapple juice.
soy sauce – if you prefer you can use low sodium soy sauce
ketchup – this brings the tangy flavors to the Hawaiian chicken.
brown sugar – this brings sweetness to the Hawaiian chicken, and also the reason for the slight charring if you make this on the grill.
fresh garlic – avoid substituting with garlic powder – it's just not the same!
canola oil – other types of neutral oil works too, e.g. vegetable oil, olive oil, avocado oil etc.
honey – this is technically not part of the marinade but it is brushed onto the chicken at the end to give it that glossy look, while bringing lots of amazing sweet and tangy flavors. I prefer to brush this one at the end to avoid burning the chicken.
How to make Hawaiian Chicken
This Hawaiian Chicken is a marinate-and-grill (on a grill pan or outside grill) kind of recipe. EASY PEASY.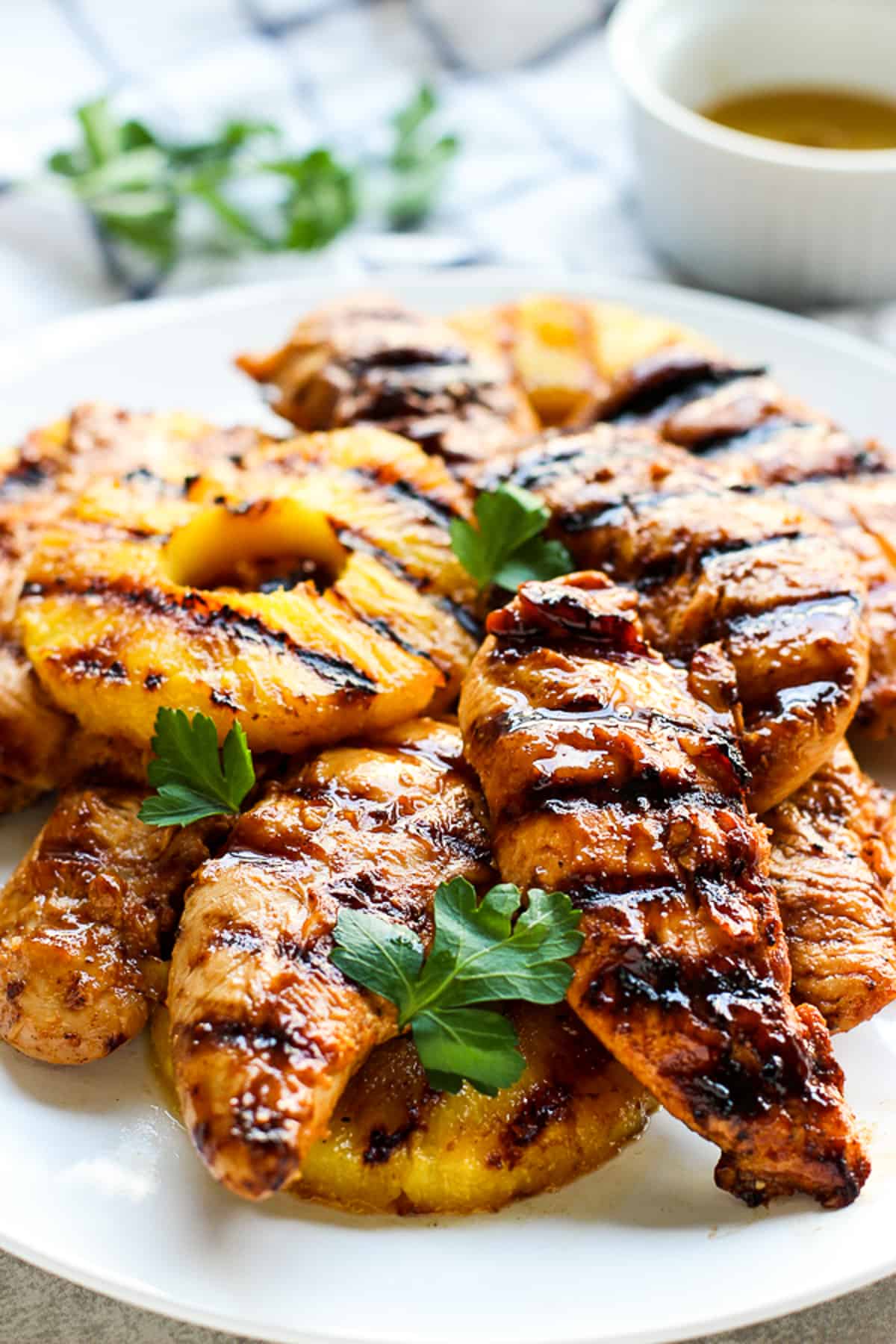 If you do not have a grill or do not want to mess with it, it will work pan fried as well. The only thing missing will be grill marks. I do love me some grill marks, because they sure are pretty, but not necessary.
If you use an outdoor grill, you do get a bit of a smoky flavor which is always a plus. But honestly, the marinade is so good it will work just fine indoor (not to mention easier clean up) on a grill pan or a regular pan.
The marinade for the Hawaiian Chicken has a variety of flavors – sweet, salty, tangy, tropical, and citrusy consisting of pineapple juice, soy sauce, garlic, ketchup, vegetable oil, and brown sugar.
It is a gorgeous, gorgeous marinade. This Hawaiian Chicken recipe calls for marinating it for an hour, but if you are planning ahead you can let it sit for up to 24 hours.
In fact, the longer the chicken sits in the marinade, the more flavorful the chicken is.
When the chicken is fully cooked, brush honey generously on both sides of the chicken.
Honey, combined with all the flavors in the marinade, create this sticky, complex concoction of flavors that is just out-of-this-world delicious. YUM.
What to serve with Hawaiian Chicken
The best way to serve Hawaiian Chicken is with grilled pineapples and coconut rice.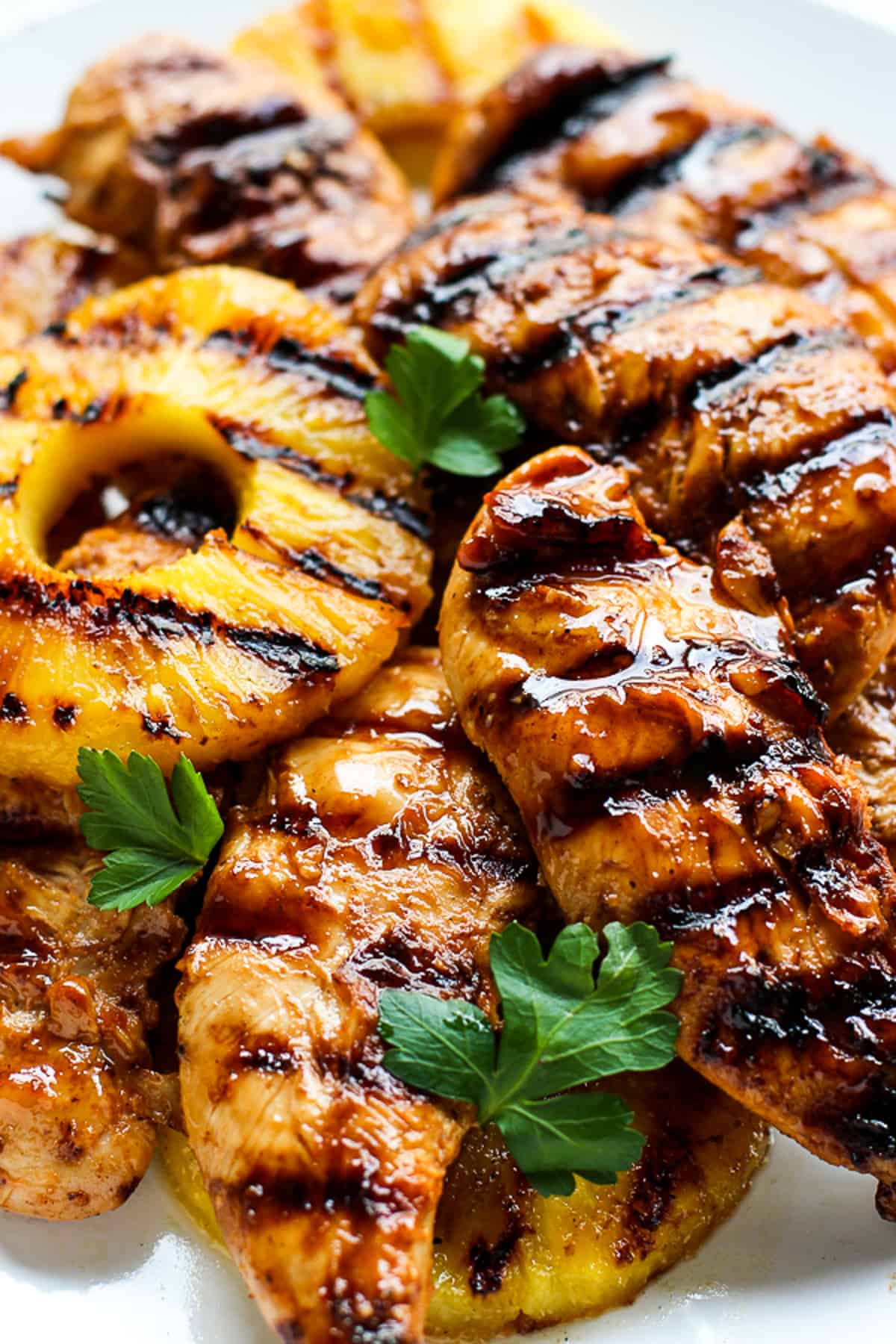 Grilled Pineapples
There's something magical about putting fresh ripe pineapple on grill (or pan). It caramelizes the pineapple and brings out so much sweetness
Coconut Rice
In my humble opinion, there's only one way to make this Hawaiian Chicken dish complete. And that is to serve it with coconut rice.
The idea of serving this with coconut rice was inspired by one of my favorite Malaysian dishes, Nasi Lemak, which is a rice dish cooked with coconut milk.
Fragrant coconut rice, combined with the salty, sweet, tangy, citrusy chicken, and the sweet and warm pineapple, will tantalize your tastebuds, and take you on a a fun culinary adventure.
Here are the ingredients you will need for the coconut rice:
basmati or jasmine rice – I like these better than long-grain rice, they are more fragrant and pairs better with the Hawaiian Chicken and grilled pineapples
coconut milk – unsweetened coconut milk that typically comes in a can.
You will be basically cooking rice per usual, but adding coconut milk to it as well instead of just water to give it that fragrant coconut flavors. YUM!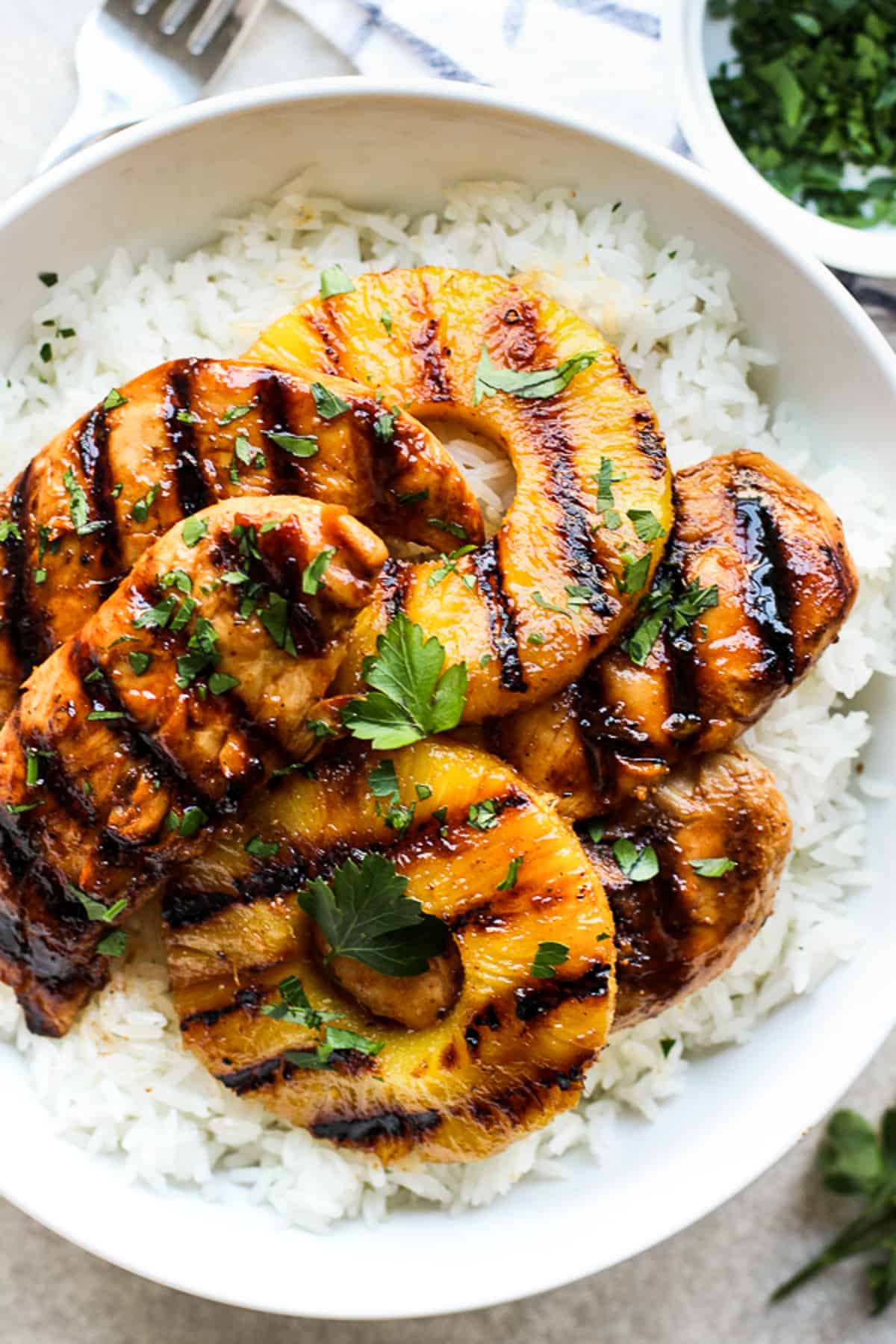 Appliances Used
Here are a few appliances that will make making Hawaiian chicken much easier!
Frequently Asked Questions
Can I pan fry or bake chicken instead of grilling?
If you don't have or want to grill, I recommend pan frying but not baking. When chicken is baked, we are not able to seal as much flavor to the surface of the chicken and thus making it less flavorful.
My chicken isn't as flavorful as I like it to be – what can I do differently?
Marinade chicken for longer. The longer you marinade the chicken the tastier it will be. I suggested a minimum time of 1 hour but I like to marinate for longer if I can to make it more flavorful.
Can I use dark meat chicken or bone-in chicken instead of tenderloins?
Yes! You can use any type of chicken as long as you marinade it well and cook it until it reaches 165℉
DID YOU ENJOY THIS RECIPE? Please comment below and give us a 5-star rating! This will help others find this recipe on Google and Pinterest. We very much appreciate your help! 🤍
Other Chicken recipes!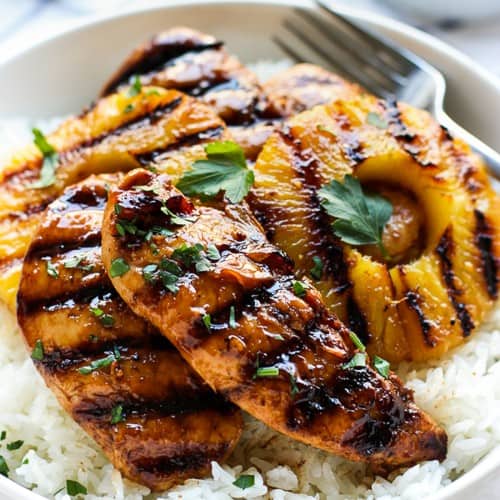 Hawaiian Chicken with Coconut Rice
A yummy, easy and super flavorful dinner meal! Grilled Hawaiian Chicken recipe bursting with salty, sweet, tangy flavors serve with grilled pineapple on a bed of coconut rice. Save well as leftovers and perfect for meal prep as well!
Print
Pin
Ingredients
Hawaiian Chicken
~1 1/2

lbs

chicken tenderloins

7-8 pieces

1/2

fresh ripe pineapple

1/4

cup

pineapple juice

1/4

cup

soy sauce

3

tbsp

ketchup

2

tbsp

brown sugar

5-6

cloves

fresh garlic

2

tbsp

canola oil

2

tbsp

honey
Coconut Rice
1

cup

basmati or jasmine rice

3/4

cup

coconut milk

3/4

cup

water

1

tbsp

Fresh parsley

chopped
Instructions
Hawaiian Chicken
In a food processor or blender, blend pineapple juice, soy sauce, ketchup, brown sugar, fresh garlic and canola oil to create the marinade for the chicken.

Add chicken and marinade into a zip lock bag, mix well to ensure all chicken tenderloins are covered with marinate. Marinate for 1 hour, or up to 24 hours (the longer the better!).

Grease a grill pan, cast iron grill, charcoal grill, electric grill or non-stick skillet.

Cook chicken until it reaches 165℉. Flip halfway through. Once chicken is done, brush honey on both sides of the tenderloins and remove.

Slice pineapple into 1/2-1 inch thick slices and grill on both sides.
Coconut Rice
On the stovetop, in a pot, bring to boil rice, water and coconut milk. Once boiled, bring to medium low heat and cook covered (cover with a tight lid and do not open) for ~17-20 minutes (See Note 1). Remove from heat.

If using a rice cooker, follow rice cooker instruction. Use 1:1 ratio of coconut milk to water to substitute for the amount of water needed to cook the rice.
Combine
Serve chicken and pineapple on a bed of coconut rice, and sprinkle with fresh parsley. Enjoy!
Notes
Note 1: Different stoves and pots heat up at different rate, cook time may vary.
Also note that cup measurements for the rice is based on a U.S. cup measurement, not the measuring cup that typically comes with the rice cooker.
Nutrition
Calories:
879
kcal
|
Carbohydrates:
100
g
|
Protein:
57
g
|
Fat:
28
g
|
Saturated Fat:
13
g
|
Cholesterol:
145
mg
|
Sodium:
1517
mg
|
Potassium:
1339
mg
|
Fiber:
3
g
|
Sugar:
40
g
|
Vitamin A:
355
IU
|
Vitamin C:
81
mg
|
Calcium:
78
mg
|
Iron:
4
mg