The best EASY Chicken Fried Rice! This chicken fried rice recipe contains a secret ingredient that brings lots of great flavors to this easy classic Asian dish. Seasoned rice is stir fried with chicken, eggs and mixed vegetable, and makes the perfect easy weeknight dinner.
Skip Chinese takeout and make this delicious easy chicken fried rice recipe in under 30 minutes!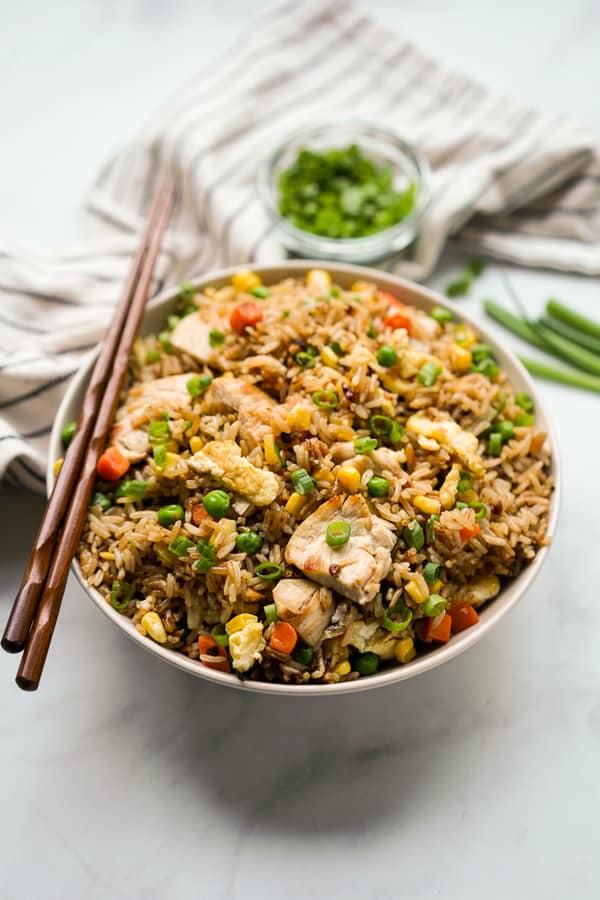 Love a good easy rice recipe? Check out my Steak Fried Rice, Spam Fried Rice, Thai Pineapple Fried Rice and Mixed Vegetable Rice recipes as well!
Easy Chicken Fried Rice Recipe
Warning: this is not just another easy chicken fried rice recipe!
We are all about a good fried rice, and refused to settle for mediocre. And that's why I'm sharing this delicious and easy chicken fried rice recipe. Delicious, yet very little fuss and easy to execute.
I might even be bold enough to say this is the best chicken fried rice recipe ever.
Our homemade easy chicken fried rice is a super straight-forward dish to make – toss leftover rice with seasoning and sauce, combine with veggies and egg pieces, and cook it using a wok or a skillet.
Yes! It's EASY EASY EASY! SO easy there's no more need for Chinese takeout!
The execution is fairly simple, but I am excited to share a few tricks (and ingredients) to take fried rice from just okay to fantastic.
I have spent years trying figure out the secret behind making a good solid fried rice at home. And here's my secret: chicken bouillon.
This tiny and powerful secret ingredient will transform this easy chicken fried recipe.
Because of chicken bouillon, you are looking at truly flavorful rice, seasoned chicken pieces, crunchy mixed vegetables and soft pieces of egg omelette mixed into it.
Chicken bouillon brings incredible flavors to the fried rice, actually flavoring the rice and bringing complex flavors.
This is an easy way to bring incredible flavors to the rice with just ONE ingredient!
Trust me, just soy sauce (which is what most chicken fried rice recipes use) is not enough to really bring truly yummy flavors to your rice and other ingredients in it.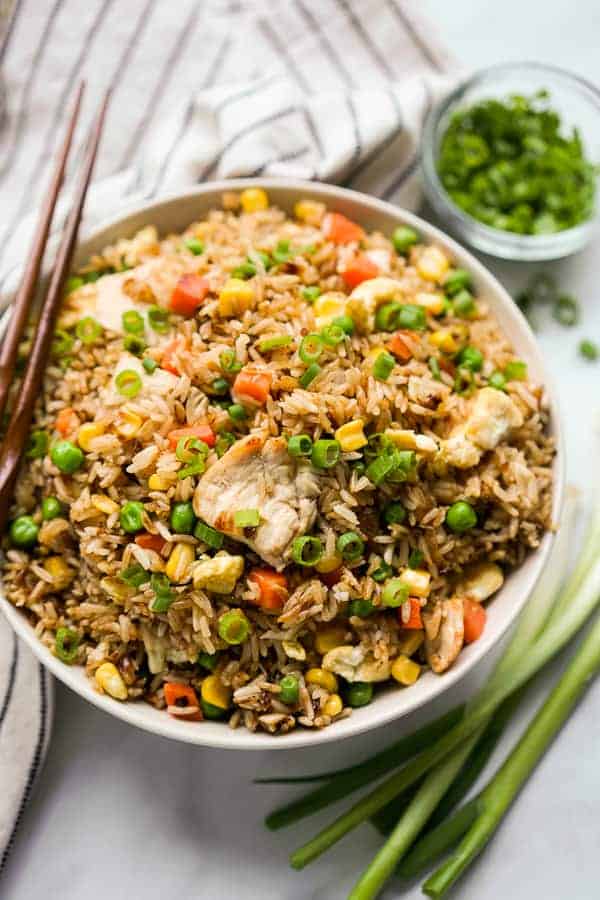 Appliances needed for chicken fried rice
To make this easy chicken fried rice, all you need is either a wok or a non-stick skillet, along with a turner or spatula that can withstand heat.
When picking a wok or skillet, make sure they:
retains heat well
are large enough to freely move the items around so fried rice cooks evenly
Wok is traditionally what is used when making most Asian stir fry. I find that they are great, but not necessary for this recipe.
In fact, if you have a high quality skillet that does the above bullet points well, it works just as well. This is the non-stick skillet I have been using for years, and it works perfectly for this recipe!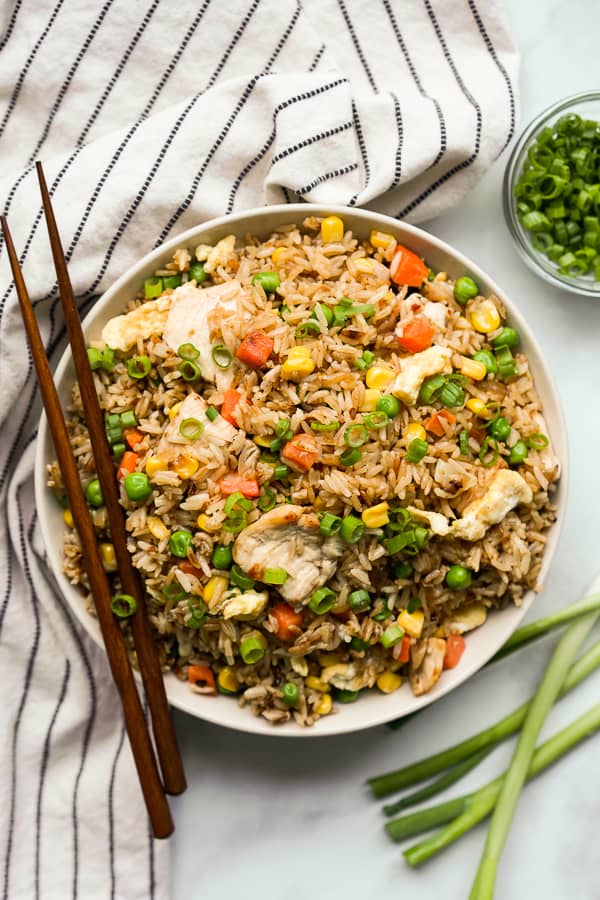 Ingredients
Next, let's talk about the ingredients needed for our chicken fried rice recipe.
Being a fairly easy chicken fried rice recipe, we are using pantry-friendly ingredients – all of them should be easily available in your regular grocery stores. That's right, no obscure ingredients required!
Cooked rice – use day old rice for the best texture. The reason being freshly cooked rice is usually wet and sticky. When frying fresh cooked rice, your chicken fried rice will turn mushy really fast. That's why day old rice that is refrigerated and slightly harden/dryer is preferred.
Chicken breast – cut into small pieces. Chicken tenders, chicken thighs can be used as well.
Eggs
Onion – do not substitute with onion powder, it doesn't bring the same level of flavor.
Garlic – do not substitute with garlic powder, it doesn't bring the same level of flavor.
Chicken bouillon – an important ingredient! Do not substitute with chicken broth. Chicken broth isn't concentrated enough to give your rice flavor. Better than Bouillon Chicken bouillon is a good option.
Mixed vegetable – a bag with a mixture of peas, carrots, corn and sometimes green beans. Available in the frozen section. You can use other vegetables as well. If it's significantly larger pieces it may need a longer cook time.
Sesame oil – a nutty, fragrant oil commonly used in Asian cooking.
Green onions
Salt and black pepper
Vegetable oil – you'll always need oil for stir frying! Canola oil, olive oil, avocado oil or another form of neutral oil works as well.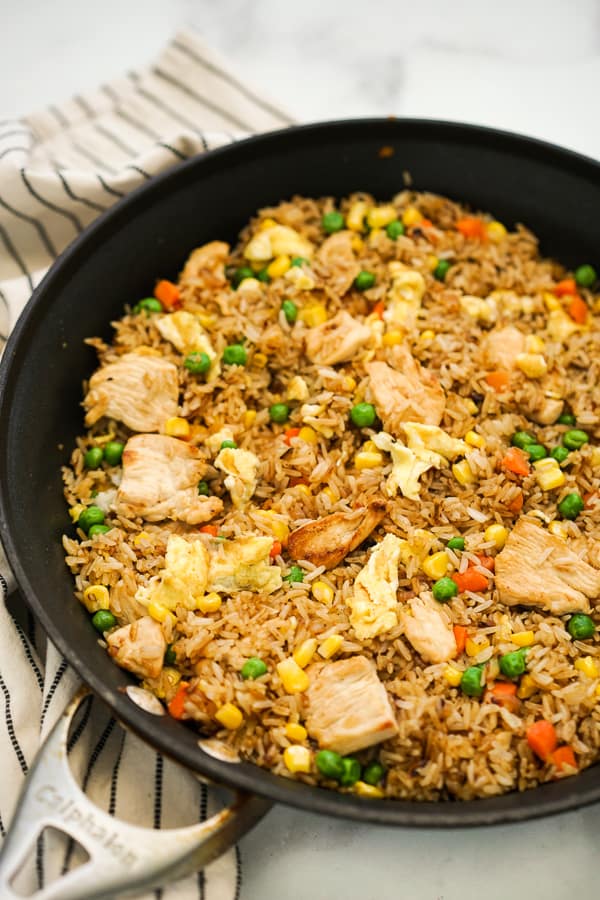 How to make chicken fried rice
This easy chicken fried rice recipe is so easy to make…it's one of our default easy meal on busy weeknights, especially when we don't have a ton of new groceries lying around, and are trying to use up whatever we have at hand!
Make sure you have your skillet/wok, turner or spatula, as well as all the other ingredients that will go onto the skillet.
Remember, the process of actually stir frying this easy chicken fried rice goes fast, so you'll want to have everything close by you.
And let's begin stir frying! You'll want to heat your skillet and add vegetable oil to it. Make sure vegetable oil is heated.
First, you'll want to crack and egg and basically making an omelette, then break it up in small pieces. When eggs are done, remove them from skillet and set aside.
On the same skillet, you'll want to cook chicken pieces. When chicken is done, remove them from skillet as well, and set aside.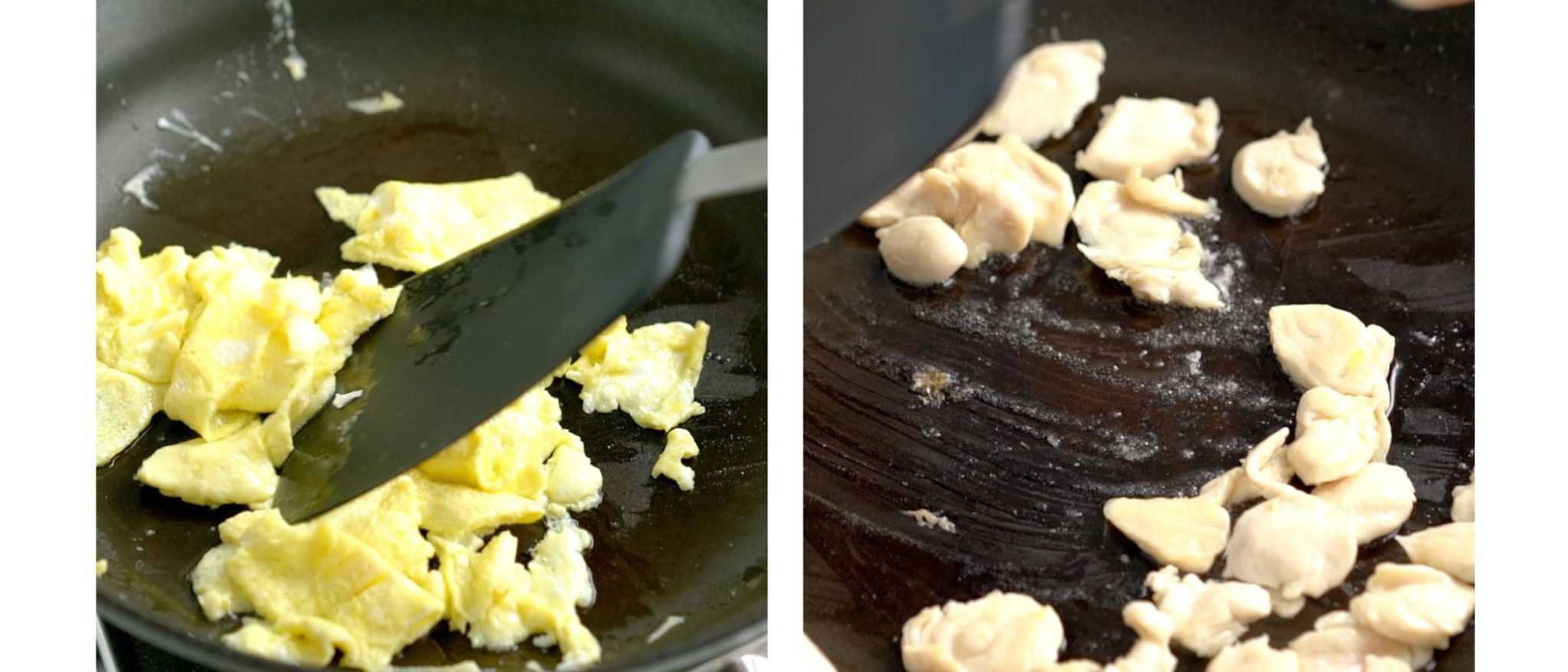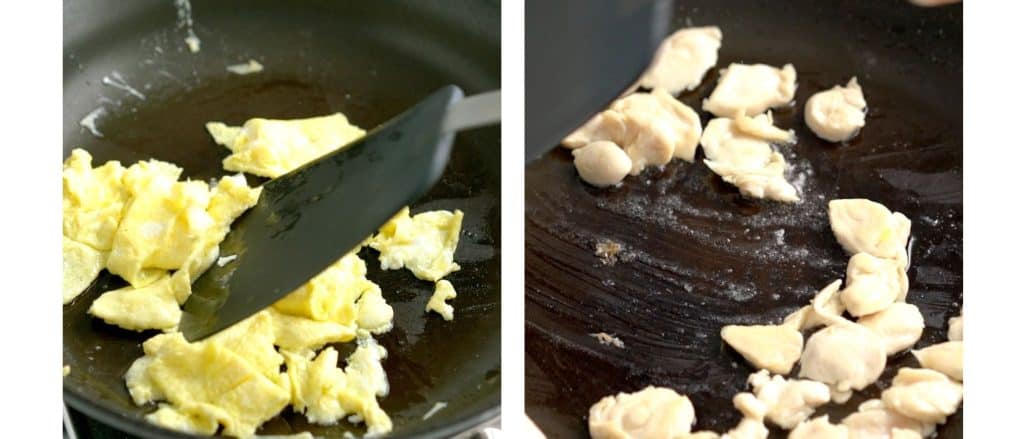 Once again, you'll find your skillet completely empty after setting aside chicken pieces.
Add additional vegetable oil if needed, then add cooked rice, along with seasonings: soy sauce, sesame oil, chicken bouillon, salt and black pepper. Give it a good stir.
Then you'll want to add frozen mixed vegetables in there, stir to combine and let it cook for 1-2 minutes.
Then bring the chicken and eggs that you cooked and set aside earlier back into the skillet. Stir to combine.
Keep in mind that this whole time while stir frying, you should be stirring continuously.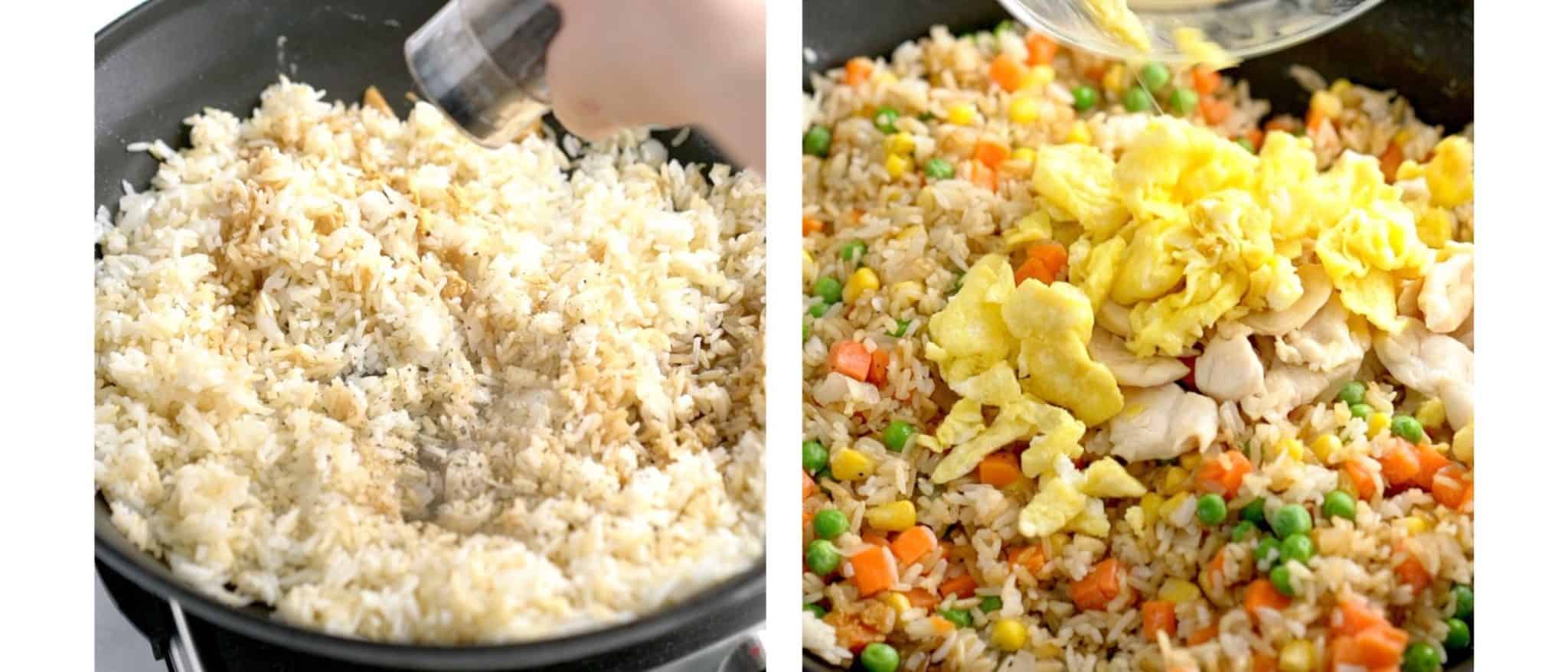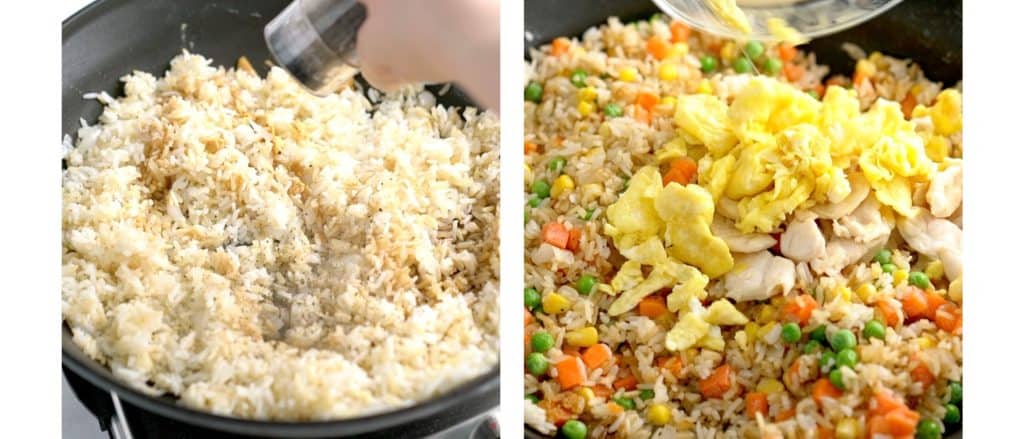 Once everything is mixed together, remove from heat promptly.
I like to garnish with some green onions before serving because green onions bring an additional layer of flavor and texture to my easy chicken fried rice.
And that's it folks! One bite into it, and you'll get a mouth of flavor and textures.
The rice is fragrant and flavorful, chicken is juicy and soft, and I love the textures from the vegetables and eggs mixed in there.
The BEST and easiest chicken fried rice, people! TRUST me on this one!!
Tips and Tricks to making the best Chicken Fried Rice
Just like a lot of other stir fry recipes, this easy chicken fried rice follows basic stir fry guidelines. Here are a few tips for stir frying your fried rice:
Use a skillet or wok that retains heat well.
Cook on high heat! And only add ingredients to your skillet when it is radiating heat.
Use day-old rice because dryer rice works better for fried rice
Set aside chicken and eggs after they are cooked and bring them back later to combine with rice to avoid overcooking chicken and egg.
Keep stirring so that your chicken fried rice cook evenly. And it cooks fast! So do not walk away and leave your stove once you start stir frying.
Other seasoning and aromatics such as garlic, onions, and soy sauce are super important to bring flavor to this dish as well! Sesame oil is optional but definitely use it if you can find it!
Variations
One of the beauty of fried rice is its versatility. It's a great way to bring together ingredients that you need to use up before its expiration date!
Here are different ways you can make this fried rice!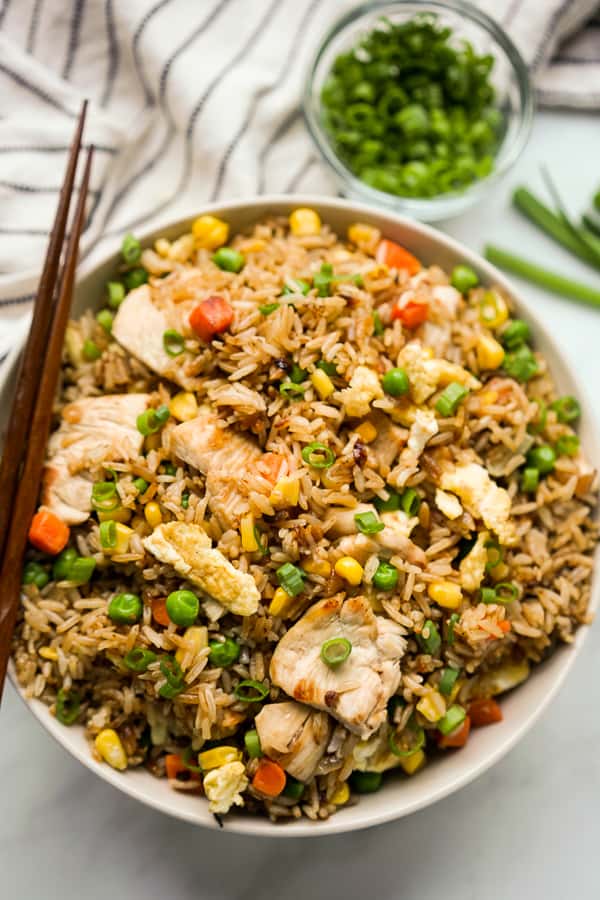 Use cauliflower rice or brown rice instead of white rice for a healthier spin!
Substitute chicken for beef, pork, shrimp or tofu.
Use any type of veggies you have at hand, whether they are fresh or frozen. This is a great way to use vegetables that has been sitting in your fridge that you need to use asap.
Make it spicy! Drizzle with sriracha when serving, or cook with chilies or red pepper flakes.
Easy chicken fried rice is a simple, pantry-friendly meal that I think you and your family will love! 20 minutes, no frills, and SO MUCH YUM!
Give it a try and let me know what you think! And if you get creative, you know I want to hear all about your variations too!
DID YOU ENJOY THIS RECIPE? Please comment below and give us a 5-star rating! This will help others find this recipe on Google and Pinterest. We very much appreciate your help! 🤍
Other Rice Recipes
Here are other delicious rice recipe!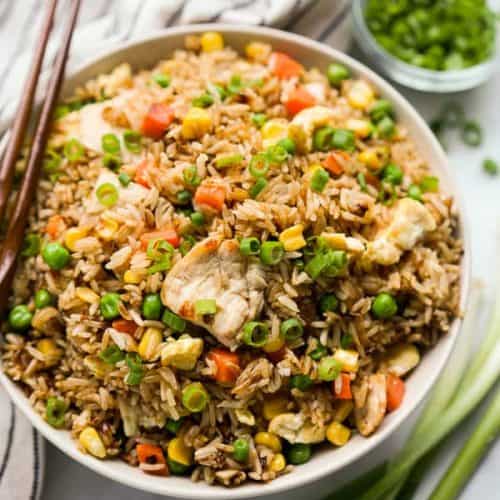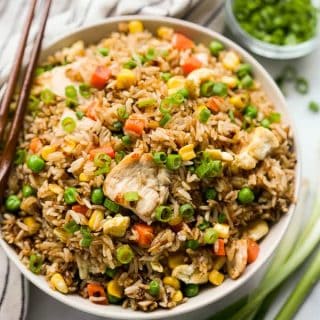 Easy Chicken Fried Rice
Easy, quick and flavorful rice stir fry with chicken pieces, egg and mixed vegetables. The perfect yummy and simple dinner for any day!
Print
Pin
Ingredients
4

cups

cooked rice

3/4

lbs

chicken breast

~1 large piece

1/4

salt

vegetable or canola oil

2

eggs

1/2

cup

diced white or yellow onion

4-6

cloves

garlic

minced

1

cube

chicken bouillon

2

tsp

soy sauce

1

tsp

sesame oil

optional

1/2

tsp

black pepper

2

cups

frozen mixed vegetable

2

tbsp

green onions

sliced
Instructions
Slice chicken into thin strips. Sprinkle with salt and rub it evenly all over chicken. Beat two eggs in a bowl.

Heat skillet under medium heat. Add vegetable or canola oil to skillet. Once oil is heated, add eggs to skillet.

When the bottom of the egg mixture is cooked, flip and cook the other side. Once eggs are no longer in liquid form, break it into small pieces. Remove from skillet and set aside.

Heat skillet under high heat. Add vegetable or canola oil to skillet. Add chicken pieces. Stir and flip occasionally until chicken is cooked. Remove and set aside.

Add 1-2 tbsp vegetable or canola oil to skillet. Once oil is heated, add diced onions and minced garlic.

Once onions and garlic are fragrant (do not brown or burn), add cooked rice. Break apart rice if it is in chunks.

Stir continuously for 30 seconds, then add chicken bouillon, soy sauce, sesame oil, black pepper. Stir continuously for a minute, or until everything is mixed well.

Add frozen mixed vegetables. Stir to combine for 1-2 minutes.

Add chicken pieces and egg/omelette pieces that was previously set aside back into the skillet. Stir to combine.

Remove from heat. Garnish with green onions.
Nutrition
Calories:
504
kcal
|
Carbohydrates:
60
g
|
Protein:
29
g
|
Fat:
16
g
|
Saturated Fat:
10
g
|
Cholesterol:
136
mg
|
Sodium:
345
mg
|
Potassium:
634
mg
|
Fiber:
5
g
|
Sugar:
1
g
|
Vitamin A:
4795
IU
|
Vitamin C:
13
mg
|
Calcium:
65
mg
|
Iron:
2
mg