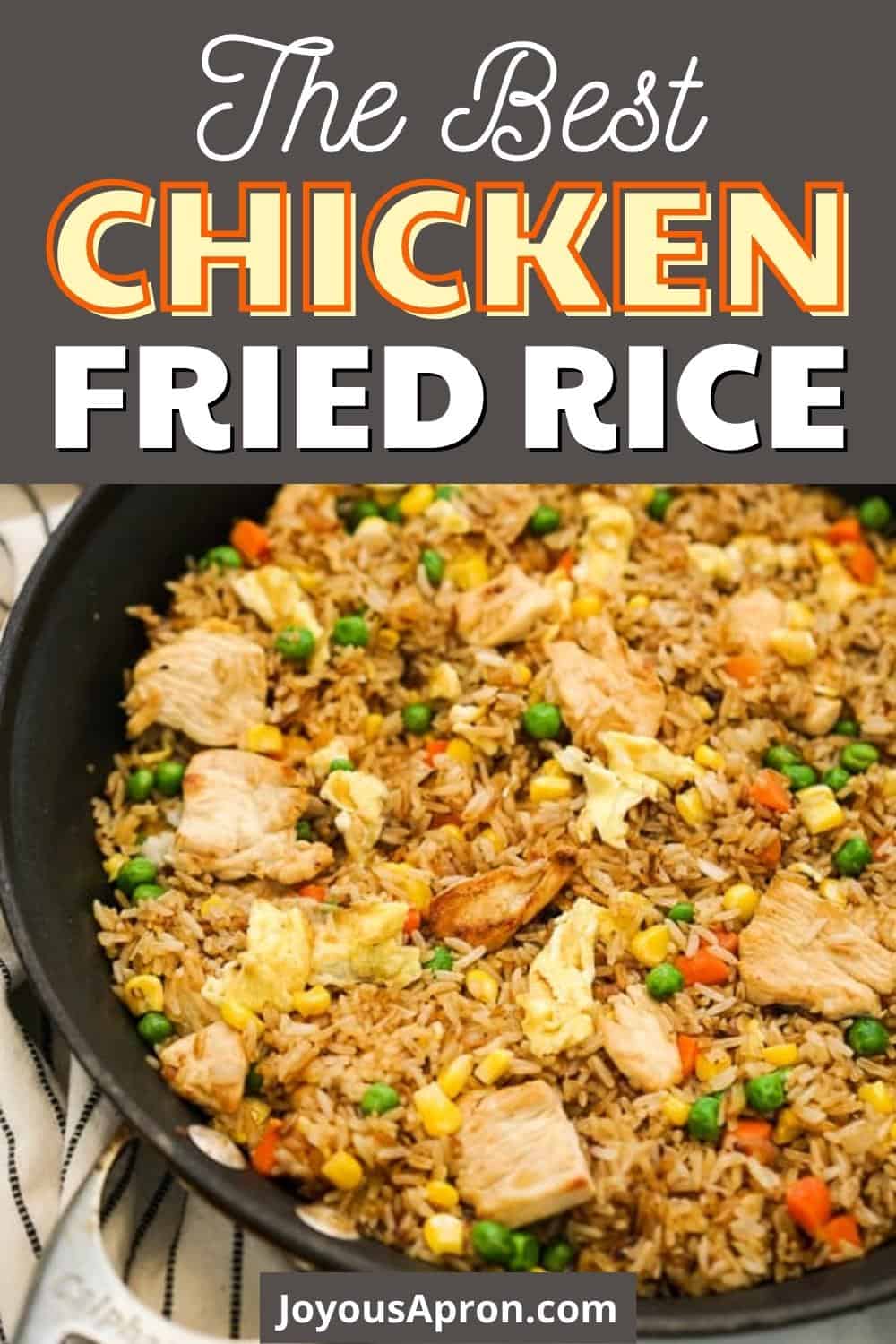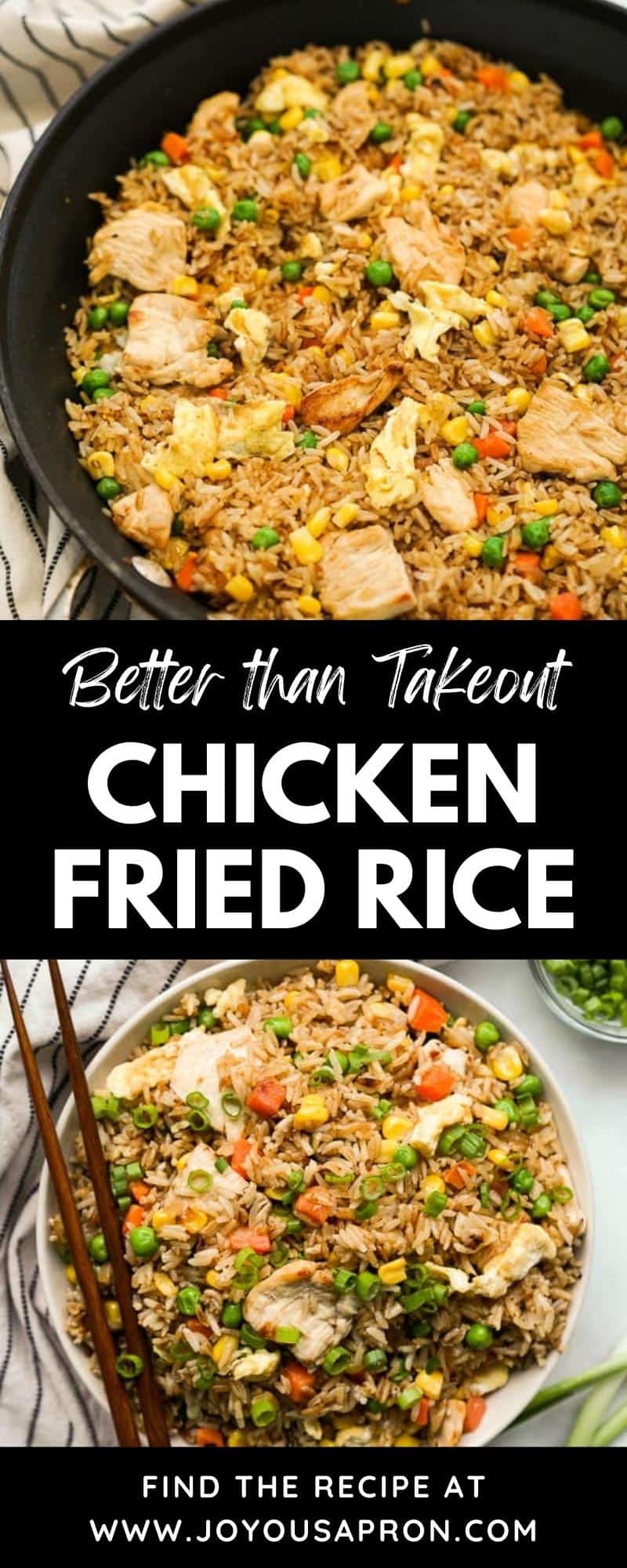 The best ever and easy Chicken Fried Rice! This recipe contains a secret ingredient that brings lots of great flavors to this classic Asian dish. Stir fried rice with chicken, eggs and mixed vegetable is the perfect easy weeknight dinner.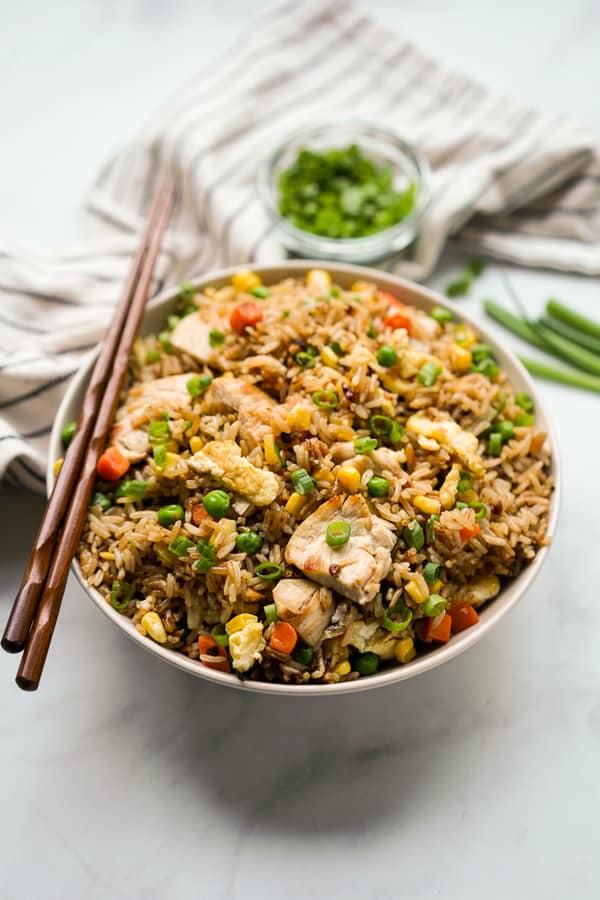 We are all about a good fried rice recipe, and refused to settle for mediocre.
Similar to this popular Steak Fried Rice, prepare to sink your teeth into a truly flavorful fried rice that is better than takeout!
How to make The Best Chicken Fried Rice
Homemade fried rice is a super easy dish to make – toss leftover rice with seasoning and sauce, combine with veggies and egg pieces, and cook it using a wok or a skillet.
The execution is fairly simple, but I am excited to share a few tricks (and ingredients) to take fried rice from just okay to fantastic.
I have spent years trying figure out the secret behind making a good solid fried rice at home. I have made many, many plates and bowls of fried rice over the last decade and I am finally ready to share.
Warning: this is not just another fried rice recipe.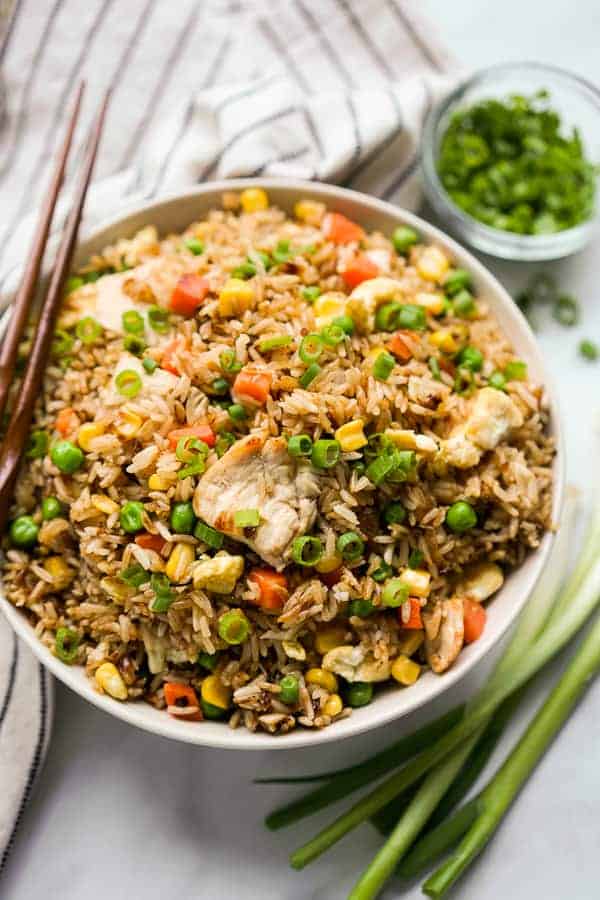 It is so good that after you have this you will never look at takeout fried rice the same way again.
And yes, it also happens to be easy.
You are looking at truly flavorful rice, seasoned chicken pieces, crunchy mixed vegetables and soft pieces of omelette mixed into it.
Okay…excuse me while I go grab a fork!
Tips and Tricks to making the best Chicken Fried Rice
Use a skillet or wok that retains heat well.
Cook on high heat!
Use day-old rice because dryer rice works better for fried rice
Set aside chicken after it is cooked and bring it back later to combine with rice to avoid drying out chicken
The secret is in the seasoning, and the secret in the seasoning is this: chicken bouillon. It brings amazing flavors to the rice. I have use different chicken bouillon to make this but Better than Bouillon is one of my favorite chicken bouillons!
Other seasoning and aromatics such as garlic, onions, and soy sauce are super important to bring flavor to this dish as well! Sesame oil is optional but definitely use it if you can find it!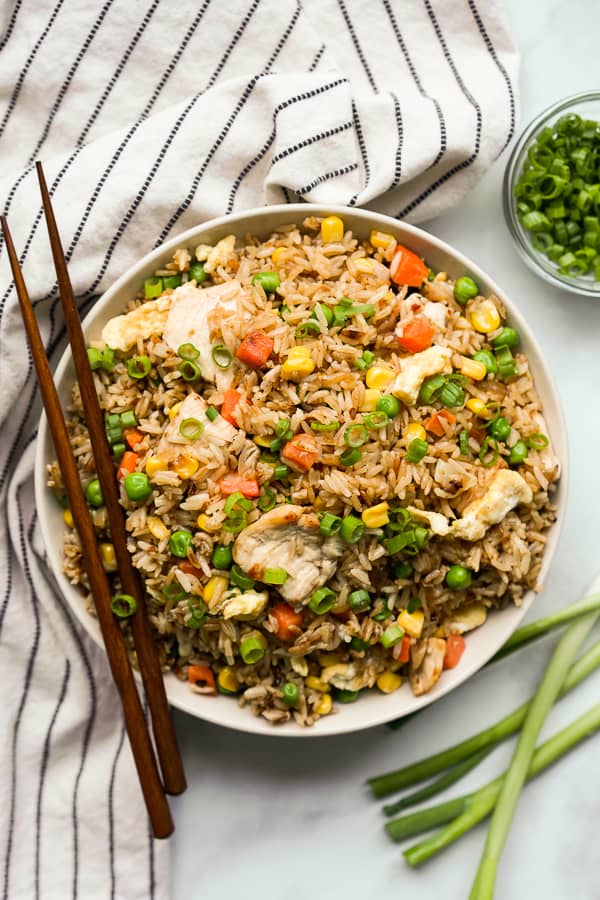 What appliances do you need to make Chicken Fried Rice
Use either a wok or a non-stick skillet, along with a turner or spatula that can withstand heat. When picking a wok or skillet, make sure they
retains heat well
are large enough to freely move the items around so fried rice cooks evenly
Wok is traditionally what is used when making most Asian stir fry. I find that they are great, but not necessary for this recipe.
In fact, if you have a high quality skillet that does the above bullet points well, it works just as well. This is the non-stick skillet I have been using for years, and it works perfectly for this recipe!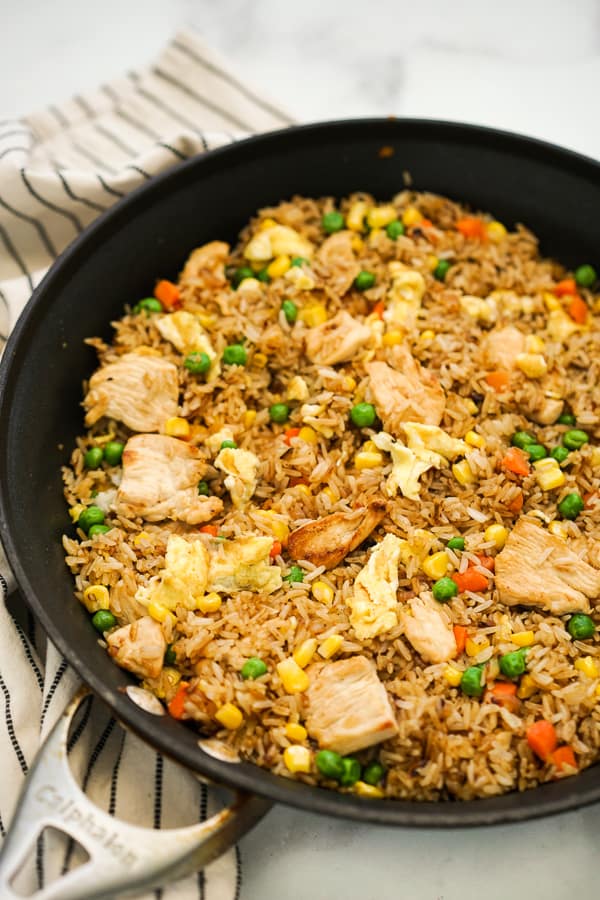 Variations
One of the beauty of fried rice is its versatility. It's a great way to bring together ingredients that you need to use up before its expiration date!
Here are different ways you can make this fried rice!
Use cauliflower rice or brown rice instead of white rice for a healthier spin!
Substitute chicken for beef, pork, shrimp or tofu.
Use any type of veggies you have at hand. This is a great way to use vegetables that has been sitting in your fridge that you need to use asap.
Make it spicy! Drizzle with sriracha when serving, or cook with red pepper flakes.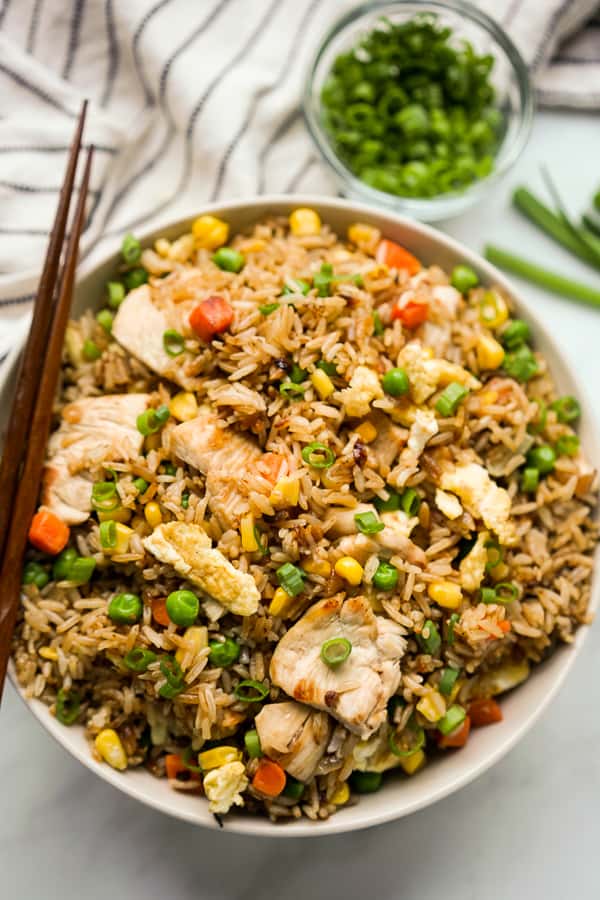 This is a simple, pantry-friendly meal that I think you and your family will love! 20 minutes, no frills, and SO MUCH YUM!
Give it a try and let me know what you think! And if you get creative, you know I want to hear all about your variations too!
DID YOU ENJOY THIS RECIPE? Please comment below and give us a 5-star rating! This will help others find this recipe on Google and Pinterest. We very much appreciate your help! 🤍
Other Rice Recipe
Here are other delicious rice recipe!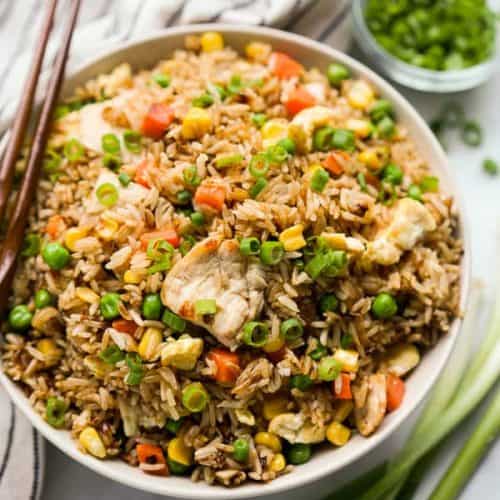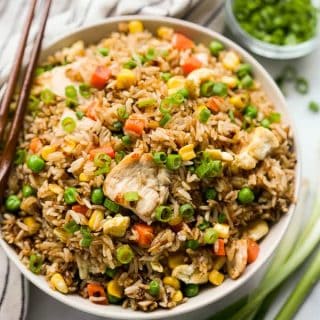 Easy Chicken Fried Rice
Easy, quick and flavorful rice stir fry with chicken pieces, egg and mixed vegetables. The perfect yummy and simple dinner for any day!
Print
Pin
Ingredients
4

cups

cooked rice

3/4

lbs

chicken breast

~1 large piece

1/4

salt

vegetable or canola oil

2

eggs

1/2

cup

diced white or yellow onion

4-6

cloves

garlic

minced

1

cube

chicken bouillon

2

tsp

soy sauce

1

tsp

sesame oil

optional

1/2

tsp

black pepper

2

cups

frozen mixed vegetable

2

tbsp

green onions

sliced
Instructions
Slice chicken into thin strips. Sprinkle with salt and rub it evenly all over chicken. Beat two eggs in a bowl.

Heat skillet under medium heat. Add vegetable or canola oil to skillet. Once oil is heated, add eggs to skillet.

When the bottom of the egg mixture is cooked, flip and cook the other side. Once eggs are no longer in liquid form, break it into small pieces. Remove from skillet and set aside.

Heat skillet under high heat. Add vegetable or canola oil to skillet. Add chicken pieces. Stir and flip occasionally until chicken is cooked. Remove and set aside.

Add 1-2 tbsp vegetable or canola oil to skillet. Once oil is heated, add diced onions and minced garlic.

Once onions and garlic are fragrant (do not brown or burn), add cooked rice. Break apart rice if it is in chunks.

Stir continuously for 30 seconds, then add chicken bouillon, soy sauce, sesame oil, black pepper, and frozen mixed veegtable. Stir continuously for a few minutes, or until everything is mixed well.

Add chicken pieces and egg/omelette pieces that was previously set aside back into the skillet. Stir to combine.

Remove from heat. Garnish with green onions.
Nutrition
Calories:
504
kcal
|
Carbohydrates:
60
g
|
Protein:
29
g
|
Fat:
16
g
|
Saturated Fat:
10
g
|
Cholesterol:
136
mg
|
Sodium:
345
mg
|
Potassium:
634
mg
|
Fiber:
5
g
|
Sugar:
1
g
|
Vitamin A:
4795
IU
|
Vitamin C:
13
mg
|
Calcium:
65
mg
|
Iron:
2
mg