Blueberry Bread with Crumb Topping
Introducing Blueberry Bread with Crumb Topping, my new favorite food for breakfast, dessert, afternoon snack, or whenever! This Blueberry Streusel Bread tastes like a cross between blueberry cake and blueberry muffin topped with delicious streusel topping – basically a tasty quick bread with no yeast involved.
OH SO YUM!!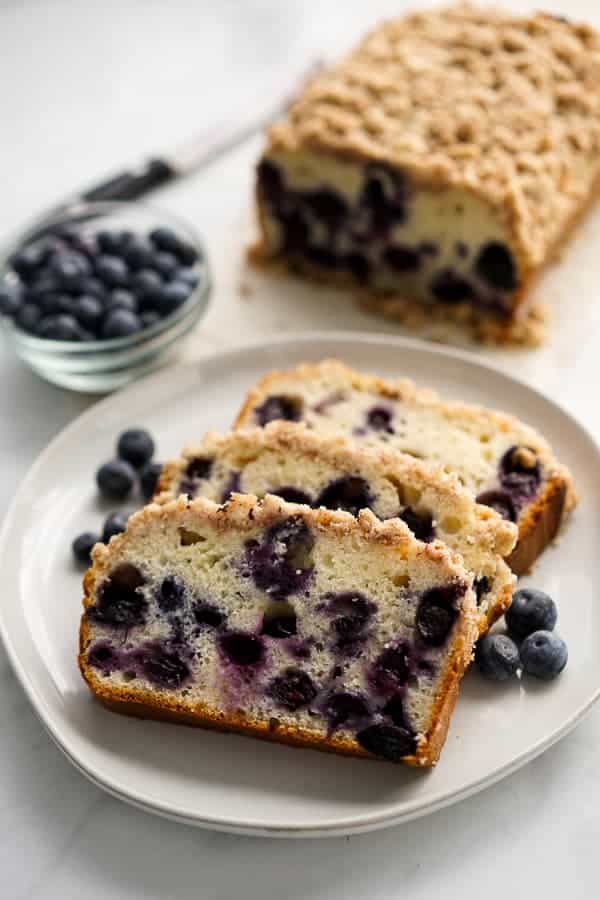 My favorite thing about this Blueberry Bread is that crumbly sweet topping with a slightly coarse texture and a hint of cinnamon. It is a gorgeous contrast to the moist, spongy bread filled with a generous amount of sweet, juicy blueberries.
Ah, summer in a bite.
Blueberry Streusel Bread
The other day, I was at the grocery store and with much excitment, I filled up my cart with multiple large boxes of blueberries because they were $6+ for 18 oz.
I was like a kid in a candy store, with my tongue hanging out at the sight of those large plum juicy blueberries. I love this time of the year at the produce aisle. In fact, I anticipate it.
Not surprisingly, we have been eating copious amount of blueberries lately, making multiple loaves of Blueberry Bread with Crumb Topping, and popping blueberries into our mouths like popcorn at random times of the day.
Blueberry lovers out there are probably nodding their heads with agreement, while the rest of you are puzzled and shaking your heads.
But that is okay. I claim my love for all things blueberries. Some people are crazy about pumpkin, avocado toast, La Croix… I am crazy about blueberries.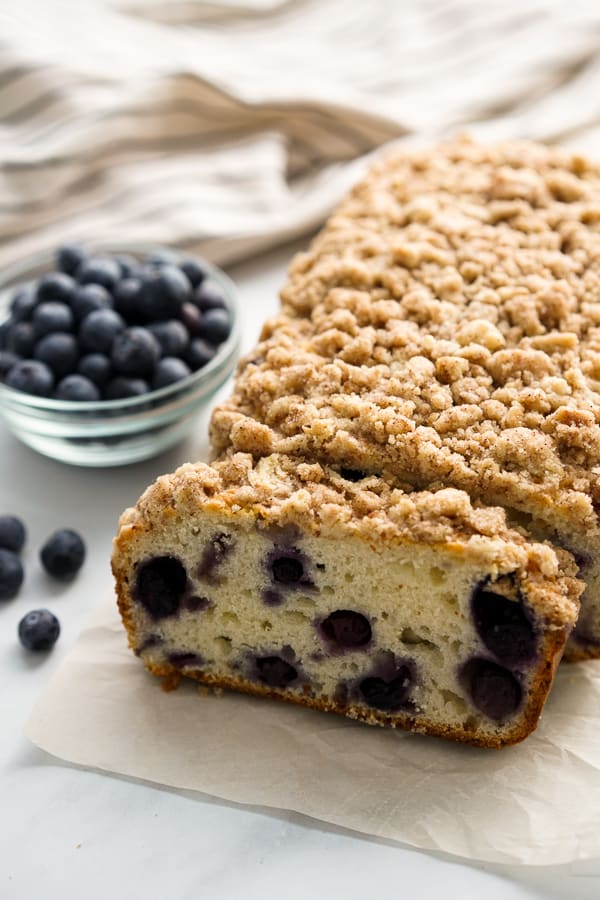 I haven't done a baking post in a while. It would seem I was on a pretty intense savory kick. So I am actually super excited to share this with you.
Ingredients
This Blueberry Bread with Crumb Topping recipe calls for simple ingredients and yes, lots (AND LOTS) of blueberries.
Here's what you will need:
blueberries – use fresh or frozen. Fresh is preferred but frozen works as well
all-purpose flour
baking powder
salt
sugar
eggs
Greek yogurt
vegetable oil
lemon juice
unsalted butter
ground cinnamon – this is used for the crumble topping
How to make Blueberry Bread with Crumb Topping
To make Blueberry Streusel Bread, I like to first line the 9×5 inch bread pan with parchment paper because it makes clean up and removing the bread a breeze.
My love for parchment paper can probably rival my love for blueberries. And that, my friend, is saying a whole lot about parchment paper.
It's worth the investment. If you don't have parchment paper at hand, and blueberry bread is CALLING YOUR NAME, grease the pan with cooking oil.
It's up to you, but I typically start off by putting together the crumb topping first, then the dry and wet ingredients for the Blueberry Bread.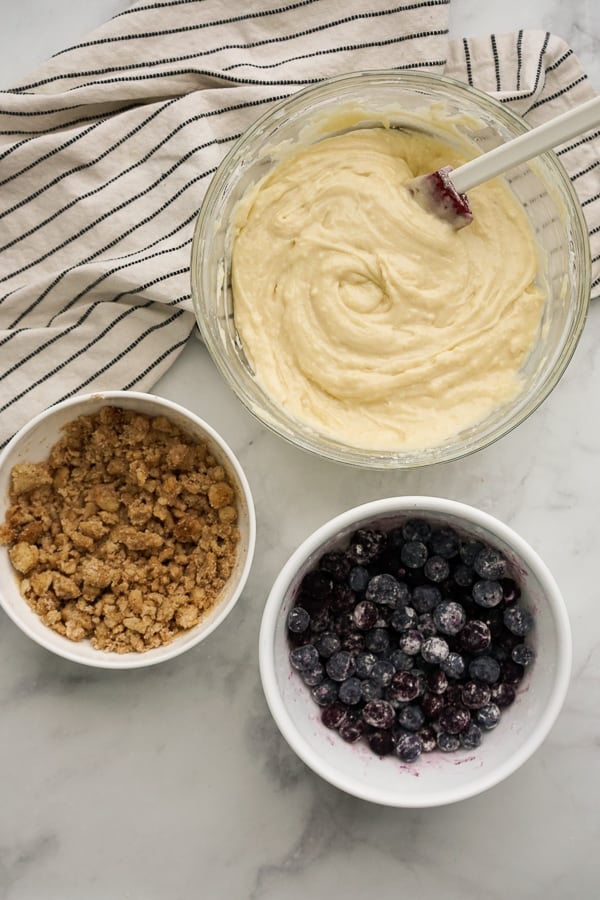 I work on the crumb topping first because I typically melt the butter in the microwave and like to let it sit for a while after putting everything together, so that the crumb topping will not go onto the batter warm.
After mixing the dry ingredients into the wet ingredients, I pour the blueberry bread batter into the loaf pan and then sprinkle the crumb topping onto the bread.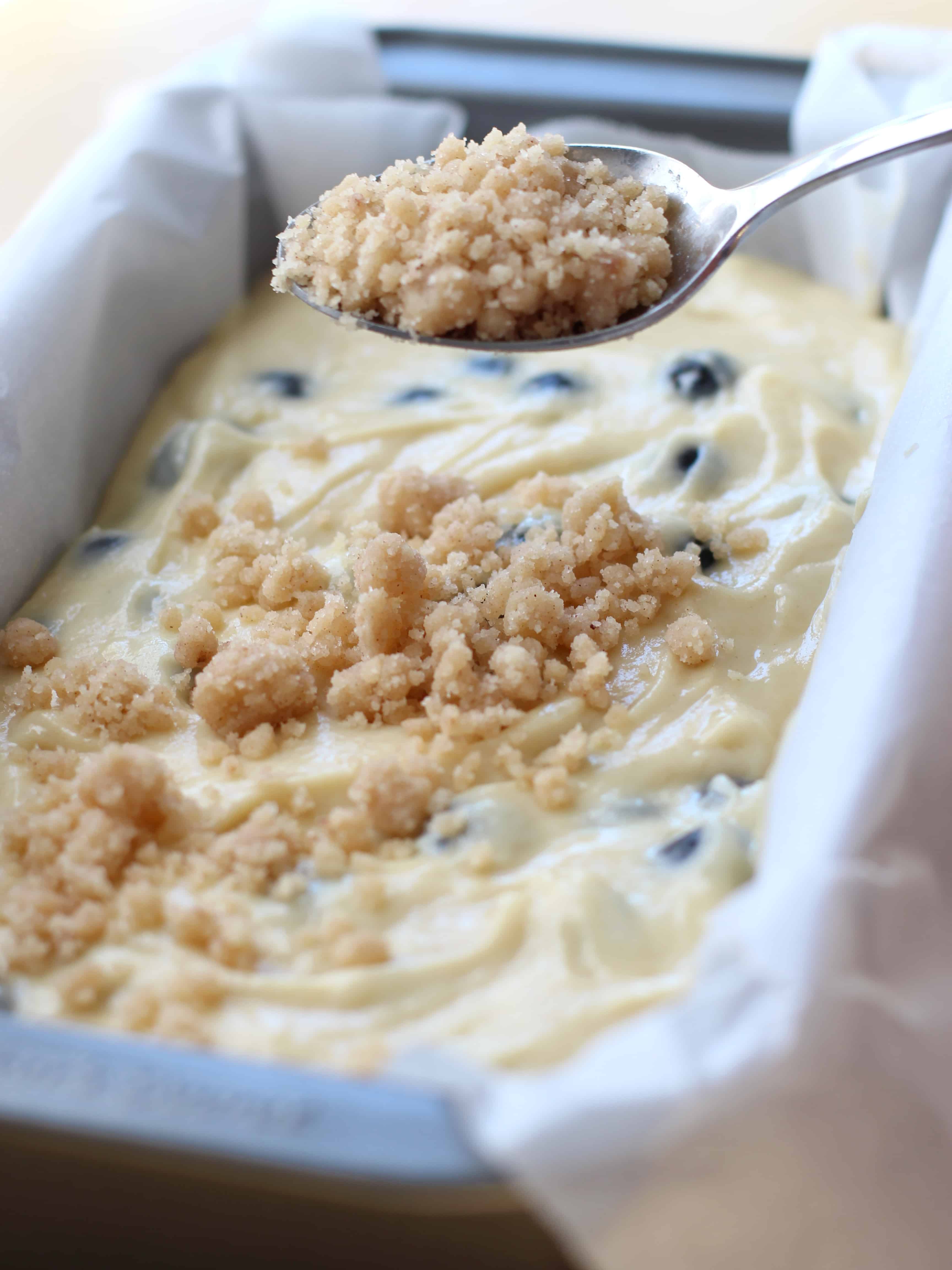 Gently press the crumb toppings onto the batter so it will stick to the top when it bakes.
Bake Blueberry Streusel Bread in the oven for about 60 minutes at 350℉. When baking this batch for the photograph, I took it out at the 58 minute mark and it was perfect.
Oven temperature varies, so always take notes and get to know your oven and decide on what works best for you.
Ah, Blueberry Bread with Crumb Topping. Love. Love. LOVE.
Use a toothpick to poke into the middle of the loaf. If it comes out clean then the bread is done.
Lastly, cool Blueberry Streusel Bread for ~10 minutes. Then remove bread from pan and let it cool for another 10-15 minutes or so before cutting into it.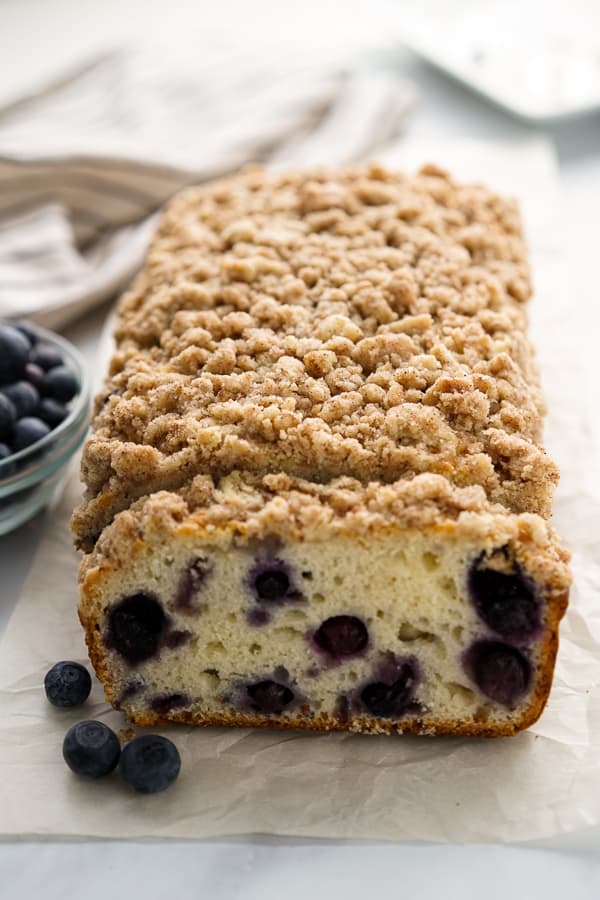 If you used parchment paper, gently remove bread from the bread pan by lifting both sides of the parchment paper. Bread should not stick to parchment paper, and cleaning the bread pan should be a breeze.
When John saw me doing this for the first time, he was so impressed by how parchment paper works… and just like that, parchment paper also won his heart.
Cut into slices and serve! Be still, my blueberry-loving heart…
How to store leftover Blueberry Bread with Crumb Topping
It definitely tastes best fresh, but it keeps well too. I typically keep leftovers in an airtight container or zip lock bag in the fridge for up to 5 days and microwave them briefly to warm it up.
You can also keep them in an airtight container or zip lock bag in the freezer and can be kept that way for a longer period of time.
John tells me it tastes about the same either way. I will admit I am a bit of a food snob and love baked goods fresh from the oven way more than leftovers.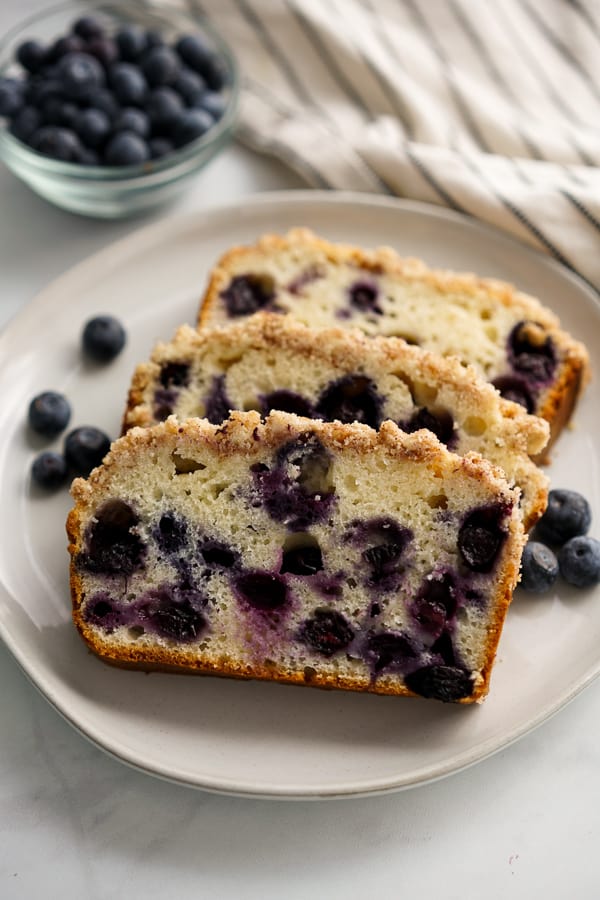 But don't get me wrong, that doesn't mean I won't eat leftovers… 😉 It is after all, blueberries…
Give this Blueberry Streusel Loaf a try! Have fun baking!
DID YOU ENJOY THIS RECIPE? Please comment below and give us a 5-star rating! This will help others find this recipe on Google and Pinterest. We very much appreciate your help! 🤍
Other bread and muffin recipes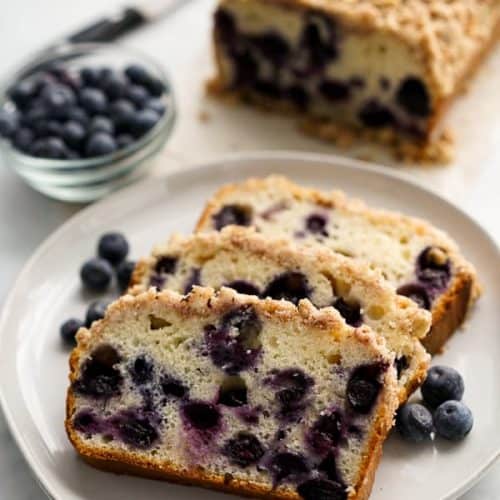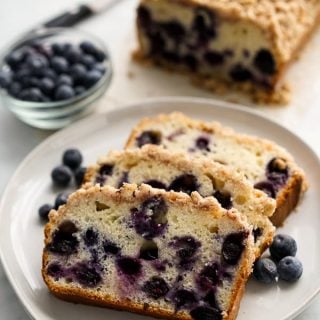 Blueberry Bread with Crumb Topping
Moist Blueberry Bread filled with a generous amount of juicy blueberries, topped with a sweet, crumbly topping with a hint of cinnamon. This Blueberry Streusel loaf is perfect for breakfast, afternoon tea, or as a snack anytime of the day!
Print
Pin
Ingredients
1 1/2

cup

all-purpose flour

2

tsp

baking powder

1/4

tsp

salt

3/4

cup

sugar

2

eggs

1

cup

Greek yogurt

1/4

cup

vegetable oil

2

tsp

lemon juice

1 1/2

cup

blueberries

fresh or frozen

1

tsp

flour
Crumb topping
1/2

cup

all-purpose flour

1/4

cup

butter

melted

1/4

cup

sugar

1/2

tsp

cinnamon
Instructions
Preheat oven to 350 degrees F

Start by making the crumb top. Melt butter and add the rest of the crumb topping ingredients to it. Mix well and set aside.

Mix together dry ingredients (1 1/2 cup flour, baking powder and salt) into a small mixing bowl.

In a large mixing bowl, add and mix together all the wet ingredients – sugar, eggs, Greek yogurt, vegetable oil, and lemon juice.

Add dry ingredients into wet ingredients, stir to mix well.

Add 1 tsp flour to blueberries and toss blueberries. Then gently fold blueberries into the bread mixture.

Line a 9″x5″ bread pan with parchment paper. If not using parchment paper, grease bread pan. Pour bread mixture into a bread pan.

Evenly spread crumb topping on the top of the bread mixture. Gently press on crumb topping so that it sticks to bread after baking.

Bake for about 60 minutes.

Remove and cool for 10 minutes. Remove bread from bread pan, and cool for another 10 minutes. Slice and serve!
Nutrition
Calories:
370
kcal
|
Carbohydrates:
55
g
|
Protein:
7
g
|
Fat:
14
g
|
Saturated Fat:
5
g
|
Polyunsaturated Fat:
5
g
|
Monounsaturated Fat:
3
g
|
Trans Fat:
1
g
|
Cholesterol:
57
mg
|
Sodium:
255
mg
|
Potassium:
110
mg
|
Fiber:
2
g
|
Sugar:
29
g
|
Vitamin A:
253
IU
|
Vitamin C:
3
mg
|
Calcium:
102
mg
|
Iron:
2
mg